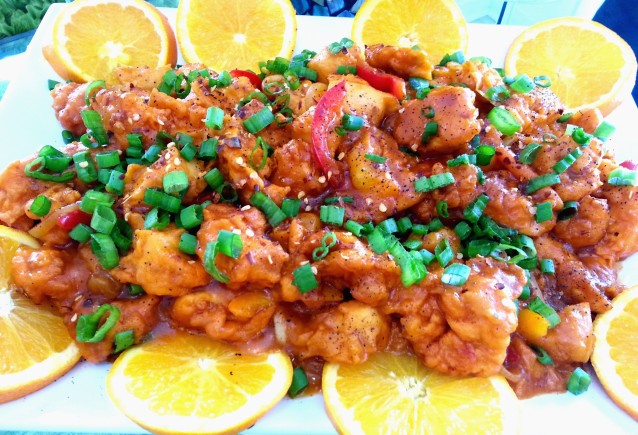 ORANGE CHICKEN: Its Hot and its Sour, Introducing Orange Stir Fry Chicken! With simple ingredients and no marination wait. This Orange Chicken is Quick, Easy, and Fabulous. So, are you an Orange LOVER; well after this dish you will definitely fall in love with the taste of Orange Chicken. Lunch Time or Dinner, this Orange Chicken is crowd-pleasing and in demand. This trendy dish will steal hearts at your Dinner or Lunch table.
Though of the Day: Feeling confused! What to do, What not to do? Well the answers lies within. You are the best Judge and Lawyer for your-self. Clearly address your concerns, confusion and make a list on how you can fix them … While at it, take it easy on your-self. Stop stressing and enjoy what is around you. Take a walk, a LONG walk, look around and ENJOY life … but of-course with some yummy Hot and Sour Orange Stir Fry Chicken!
Ingredients
• Orange Juice- 1 cup

• Grated Orange Peel- 1 tbsp

• Cornstarch- 1 tsp

• Soy Sauce- 1/4 cup

• Salt- to taste

• Bell Pepper- 1

• Honey- 2 tbsp

• Lemon Juice- 1 tbsp

• Vinegar- 1 tbsp

• Red Pepper- a pinch

• Ginger and Garlic (minced)- 1 tbsp

• Boneless Chicken Breast (cube sized) – 3 whole

• Egg (White) – 3

• All purpose flour- 1 tbsp

• Cooking Oil- for frying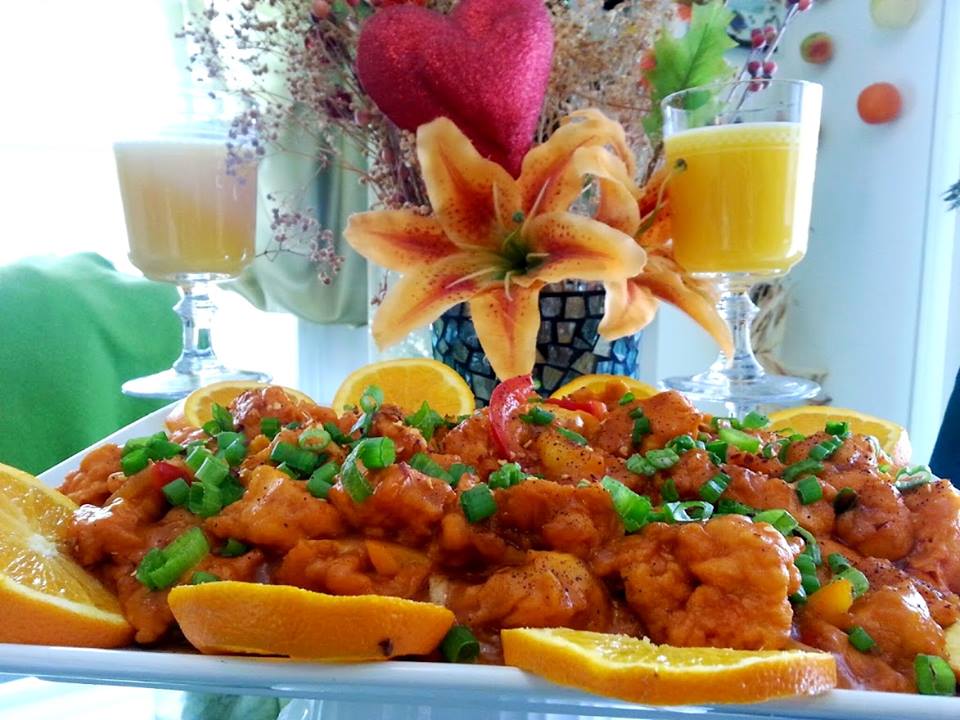 Directions
In a suitable bowl, dip chicken into flour and eggs (press to coat the chicken). Now fry the chicken till cooked and set it aside.
In a suitable non-stick pan, add in Orange juice, Soy Sauce, Salt, Honey Lemon Juice, Bell Pepper, Grated Orange Peel, Vinegar, Red Pepper, Ginger and Garlic and cook well. Add in Cornstarch and stir well to form thick sauce.
Lower the heat and add in the fried chicken and stir till 5 minutes.
Dish-out and garnish with pepper, sesame seeds, and green onions…and ENJOY!