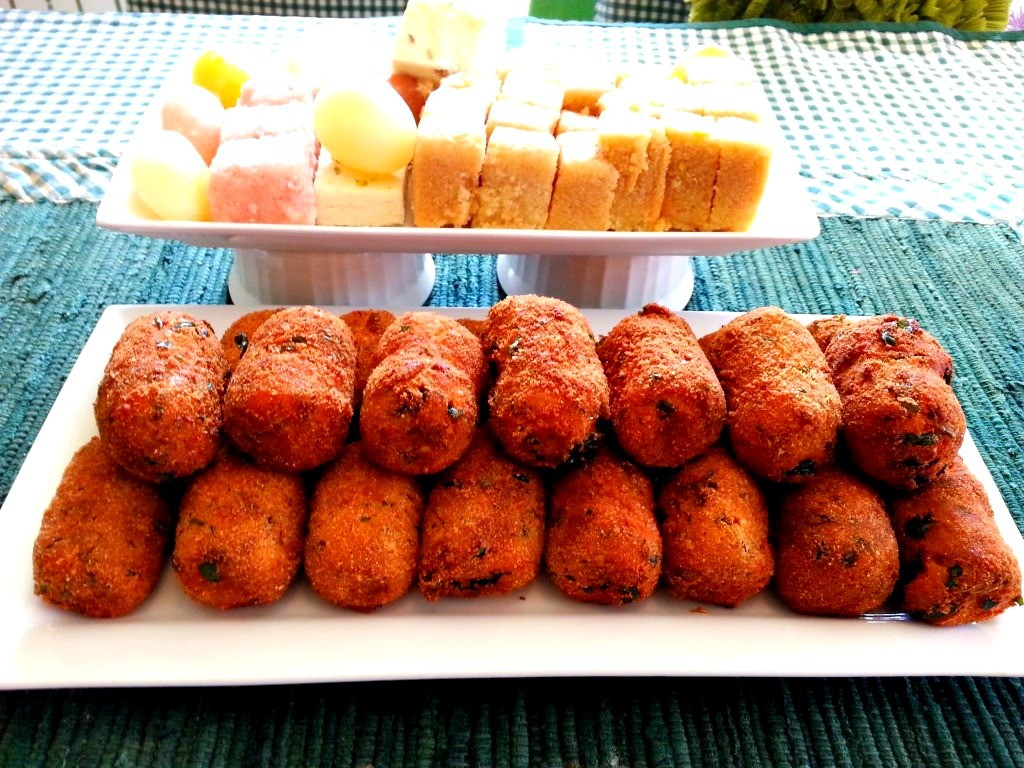 Chicken Potato and Cheese Croquettes is an ideal comfort snack, which can be enjoyed throughout the day. Homemade recipe is easy and fun to prepare as you are able to add in your favorite flavors and spices. Chicken Potato and cheese croquettes go great with salad and fries, the combination is delicious and perfect for any occasion. Movie nights, dinner, lunch parties, unexpected guests etc. WOOOHHHH did anyone say unexpected guests? Did you ever get that feeling when your heart is pounding a bit faster, you are confused but you have to put an unnatural smile on your face and now you have 100 things to worry about. We all have gone through this at least twice or more than once in our life time, were you hear a door bell and you wonder who it is? And guess what it turns out to be a close relative, friend, neighbor etc. You know what I'm talking about. In my definition unexpected guests also include people that call and say that they are coming tonight or in 20 min's. They are in the same category because you feel like you have to rush yourself and complete lots of tasks in a short period of time. Mnnnnnnnn not to worry guys cause Chicken Potato and Cheese Croquettes are here to save the day.
The best part about chicken potato and cheese croquettes is that if you had made a lot than you can always freeze them. Chicken Potato and Cheese croquettes is not only an ideal snack and appetizer but it is a great way to please your unexpected guests. You may be very angry, frustrated and mad at the whole situation, because first of all you are not prepared for the guests and secondly as individuals we are so occupied and busy in our lives, that its not like you will have well prepared food in the fridge ready to serve. It's always great to freeze such snacks or appetizer, because if you are worried about any unexpected guest in the future than you can always fry or bake and kaboom it is ready to serve. Everyone will be impressed especially if it is your in-laws, grandparents or special relatives. Hence the specialty about Chicken Potato and Cheese Croquettes is that it can be baked or fried. Its all up to the cook if they want to stay on the healthier side and bake the snack. Or if you are more comfortable with frying, than go ahead and have enjoy.
Chicken Potato and Cheese Croquettes
2016-06-13 15:36:04
Ingredients
Shredded Chicken (cooked)- 2 cup
Mashed Potato- 2 cup
Mozzarella Cheese (Grated)- 1/2 cup
Parmesan Cheese (Grated)- 1/2 cup
Salt- to taste
Parsley (chopped)- 1/4 cup
Egg- 2
Plain Flour- 1/3 cup
Dry Breadcrumbs- 1 cup
Instructions
In a suitable pan, mix: Shredded Chicken, Mashed Potato, Mozzarella Cheese, Parmesan Cheese, Salt and Parsley. Now Shape into Croquettes using Hands (add in 1 egg if the mixture doesn't form into Croquettes shape).
Beat in Eggs into one bowl, place dry Breadcrumbs into another bowl, and Plain Flour into another bowl.
First Dip the Croquettes into Plain Flour (remove excess) then dip into Eggs (remove excess), and lastly coat the Croquettes into Breadcrumbs (remove excess).
Deep fry the Croquettes on medium to high flame, until golden-ish brown. Remove and drain onto a paper towel and ENJOYY
OMGies... http://omgies.com/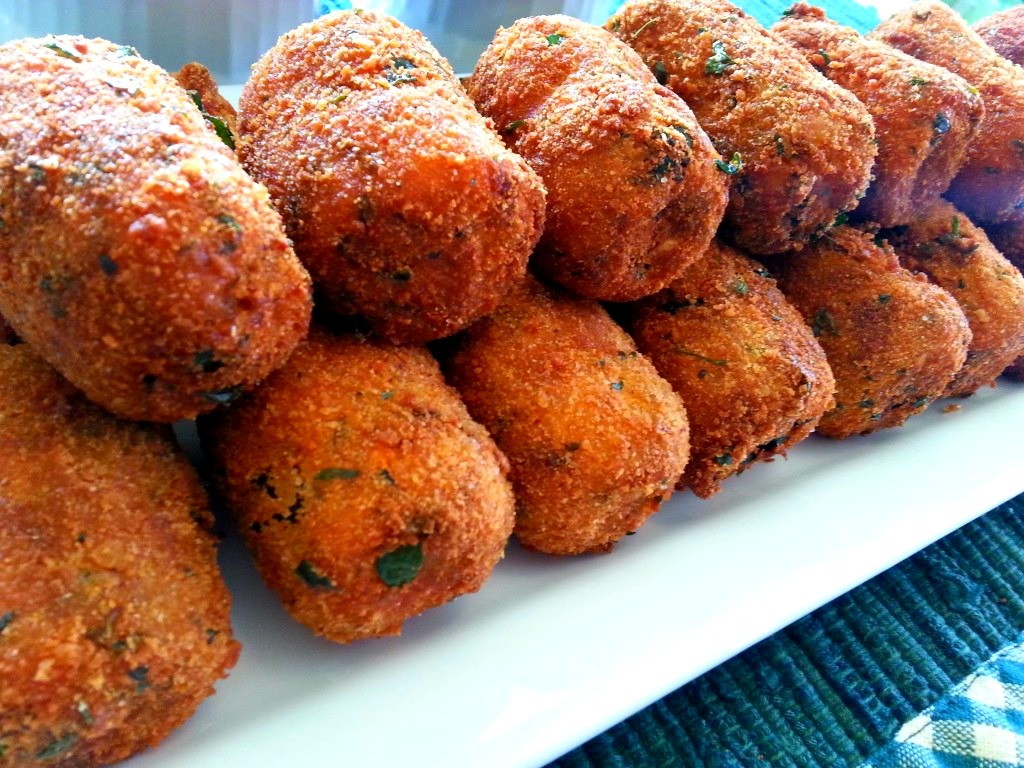 Do you know why I love this recipe because all you have to do is throw the ingredients in a bowl, mix well, shape well, coat well, fry well and live happy. So quick, simple; homemade cooking has just became so easy and fun. Let's not forget the tasty component.
Let me take you from the start, in a bowl that is big and shallow, add in cooked shredded chicken, mashed potatoes, grated mozzarella cheese, grated parmesan cheeses, salt according to taste, parsley and mix well. Make sure that all the ingredients have combined well. Know you will notice that all the colors of all the ingredients have mixed well.
I have used these lists of ingredients but you are welcome to add more components if you want. I would recommend adding spinach and any of your favorite vegetables. After this step is done using your hands and specially the palms and fingers, grab two to three tablespoons of the mixture. Depending on the size you prefer, you can decrease or increase a tablespoon according to your taste.
Aftet that give it a ball shape and then slowly by slowly shape it into a croquette, by rolling the ball in your hands in a way that it gives a croquette shape. If you find that the mixture is not forming into a proper croquette than add in an egg. When the croquettes are shaped dip them into plain flour. Know remove any excess flour and then dip into beaten eggs.
Lastly coat the croquettes into the breadcrumbs. Make sure that the breadcrumbs perfectly cover the croquettes. The breadcrumbs give the croquettes a delicious and crispy outer layer. After when you are done coating the croquettes, deep fry on medium to high flame. It is important that you set your oil temperature medium to high and not just high because the croquettes may only fry from the outside not from the inside.
When the oil is heated medium to high, gently drop in the croquettes one by one using your hands and fry them until each side is golden-ish brown. While this step you may have to switch sides and continuously flip the croquettes.
Take out the croquettes and place them on top of a paper towel so the excess oil could be drained from the croquettes. Set aside for 2 to 3 minutes and know you are ready to dish your handsome croquettes.