Kulfi is one of the most popular and loved desserts in Asia and Middle East. It is similar to ice-cream as it is a frozen dairy dessert, Yet Kulfi is way more creamy, nutty and sweet. Simple lip-smacking, heartwarming combination of sensational taste that will swift you off your feet. It is a START dish at any party, and often seen as eye-candy for many people. It is a fun dessert that can be prepared with-in 5 minutes; it is that simple, quick and easy. This delicious kulfi is prepared in three steps: 1) blend in all the ingredients, 2) pour out in plastic cups, 3) freeze over night and you are ready.
Looking for easy, quick, no bake party dessert recipes ? Than you are at the right place. This Shahi Saffron Kesar Pistachio Kulfi is the dessert that will win all hearts. Parties are meant to be fun, with great food. Well make your party Stand-out and be remembered! Include Shahi Pistachio Kulfi with Saffron (Kesar) in your dessert list, and be remembered tomorrow. Show off your skills and be LOVED! Pistachio is also known as Pista.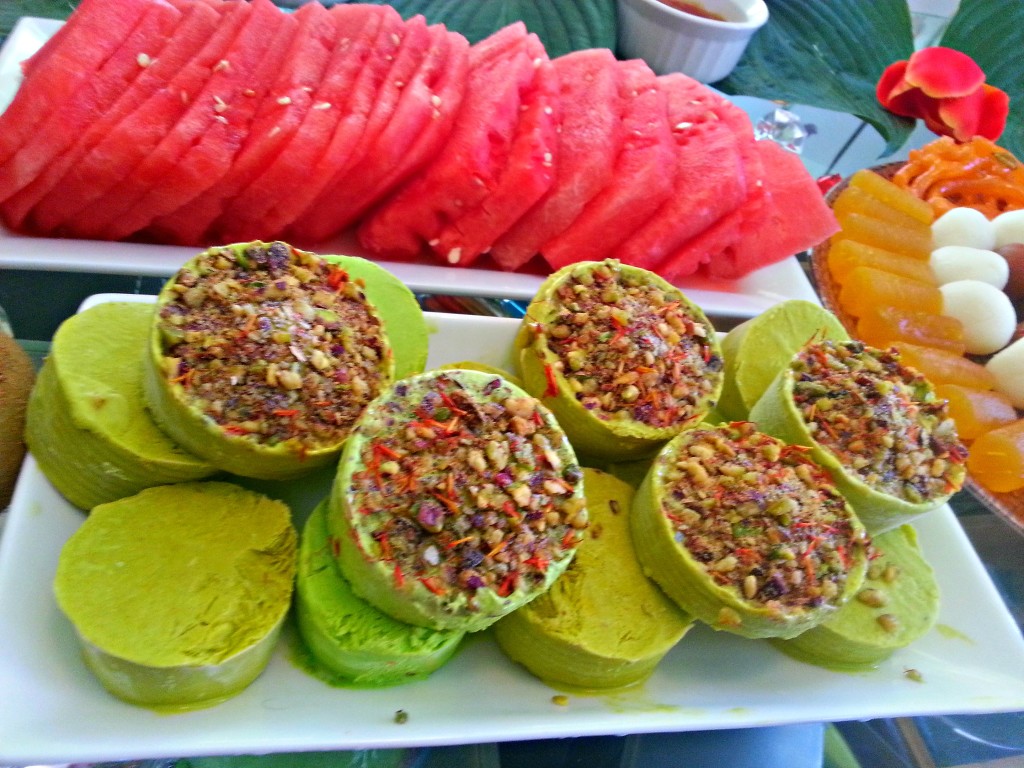 Ingredients:
Pistachio- 2 cups
Half n Half Milk- 1 cup
Condensed Milk- 1 can
Evaporated milk- 1 can
Khoya- half cup
Cool Whipped Cream- 1 cup
White Bread- 1 slice
Cardamom seeds – 1 tsp
Saffron- a pinch
Pistachio Essence- Drop (with green food color)
Rosewater- 1 tsp
Decor:
Chopped Pistachio- 2 cups
Saffron- a pinch
Method:
1. Combine all the ingredients and blend well.
2. Pour the mixture into disposable plastic glasses, and decorate the topping with pistachio and saffron.
3. Freeze the glasses for at least 6 hours (or overnight), and cut the Frozen Kulfi according to your style.
4. Your delicious Kulfies are ready to be served to your loved ones… Enjoy