Party all night with Shahi Gulan Jamun
No festival, event, occasion or party is complete without yummy and deliciously temptational Shahi Gulab Jamun. Whether you are at a friend's party, wedding, anniversary, baby shower or a conventional center we all crave for Shahi Gulab Jamun. Shahi Gulab Jamun is the right dessert after ever meal. Jamun time is the best time of the day. The most popular sweet Gulab Jamun is the party all snack. Shahi Gulab Jamun is the King and Queen of all parties. Super cute Gulab Jamun is not only loved in the morning but it is cherished at night.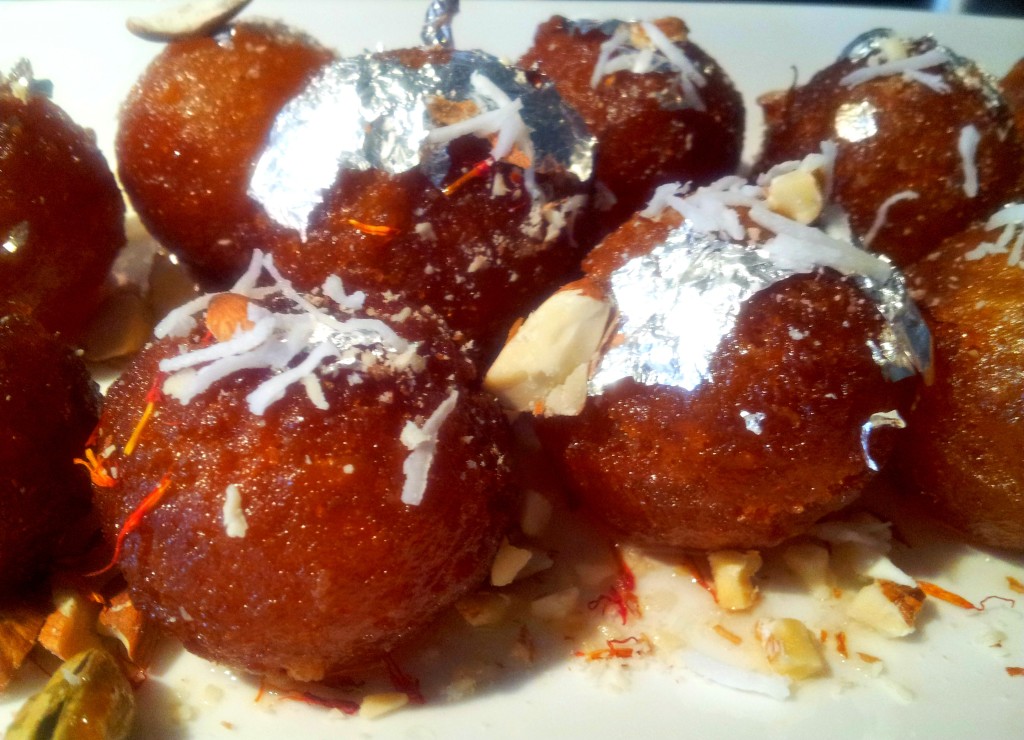 Chum-Chum Gulab Jamun
Shahi Gulab Juman brings in tons of sweet childhood stories and memories for all of us. When I was a child I loved Shahi Gulab Juman fresh. Sugary and sweet Shahi Gulab Juman was all that I wanted. Mastering Shahi Gulab Juman may not seem to be an easy job at the first round. When we think of preparing homemade Shahi Gulab Jamun, within a second, two words pop out in our brain: patience and time-consuming. Well OMGies is here to tell you that today as you are reading about OMGies…Shahi Gulab Juman, you can instantly remove and erase those two words and add in Easy and Quick. Yes my friends easy and quick can know be associated with homemade Shahi Gulab Jamun. After trying the special and Moderate Shahi Gulab Jamun you will be honored for your effort.
As a child I had a nick name for Gulab Jamun, due to my lack of vocal skills since I was only 2 years old. I used to call Gulan Jamun, Chum-Chum. Gulab Jamun was my favorite dessert, I use to nag and brag for Chum-Chum Shahi Gulab Jamun. I recently got to know that Chum means a close friend such as a BFF, a buddy or a pal. I never knew as a child I was so brilliant with words.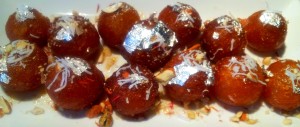 Shahi Gulab Jamun
2016-05-19 22:30:19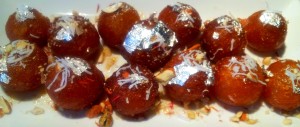 Ingredients for Gulab Jamun dough
Milk powder- 1 cup
All purpose flour (maida)- 2 tbsp
Semolina (suji)- 1 tsp
Butter/ghee- 2 tbsp
Baking Soda- 1/2 tsp
Milk- as required (for making the dough)
Ingredients for Gulab Jamun Syrup (Chashni)
Sugar- 2 cup
Water- 2 cup
Cardamom- 5 pieces
Lemon juice- 1 tbsp
Saffron (Kesar)- a pinch
Rosewater or Kewra- 1 tbsp
For frying Gulab Jamun
Oil- as required for deep fry
To Garnish
Silver foil (chandi ka warq)
Dry nuts (chopped)- 1/4 cup
Instructions
In a suitable bowl, Mix: Milk powder, all purpose flour, semolina, butter/ghee, baking soda; and rub by using your palms (to mix properly). Add just enough milk to make smooth fine dough, and set aside for 10-15 minutes (cover the dough with a damp kitchen towel).
Meanwhile, in a sauce pan; Mix: sugar, water, cardamom, saffron, rosewater or kewra on medium heat until the sugar is dissolved with water (occasionally, mix the syrup with spoon).
Tip: Avoid overheating the sugar syrup (this will caramelize the sugar).
Now add lemon juice in the syrup
Tip: lemon is added so the syrup after cooling down does not solidify or crystallize.
Divide the gulab janum dough into portions of small balls.
In a deep frying pan, add in oil and place it on high heat. After two minutes lower the heat to medium flame, and add in the rounded balls to fry.
Tip: Gently shake the pan to keep the balls cooking from one side.
Add the fried gulab jamuns directly to the warm syrup for around 20 minutes.
Dish-out and Garnish your Gulab Jamun with Silver foil and chopped dry nuts…. and ENJOYY…your delicious homemade SHAI GULAB JAMUN… :::))))
OMGies... http://omgies.com/
Homemade recipe success: Shahi Gulab Juman
The recipes for one of a kind Shai Gulab Juman are aviable at any near by South Asian grocery store. Come out and try Shahi Gulan Jamun for your next dinner party. This secret homemade recipe of Shahi Gulab Jamun should be tried by everyone. Superior in taste Shahi Gulab Juman is here to vanish all your fears and worries. Like Miss OMGies often mentions about homemade recipes that once tried all your fears and woorisome (Miss OMGies slang way of saying worry) will vanish. Indeed Shahi Gulab Juman should not only be tried by everyone yet Shahi Gulab Juman should be loved and cherished for eternity.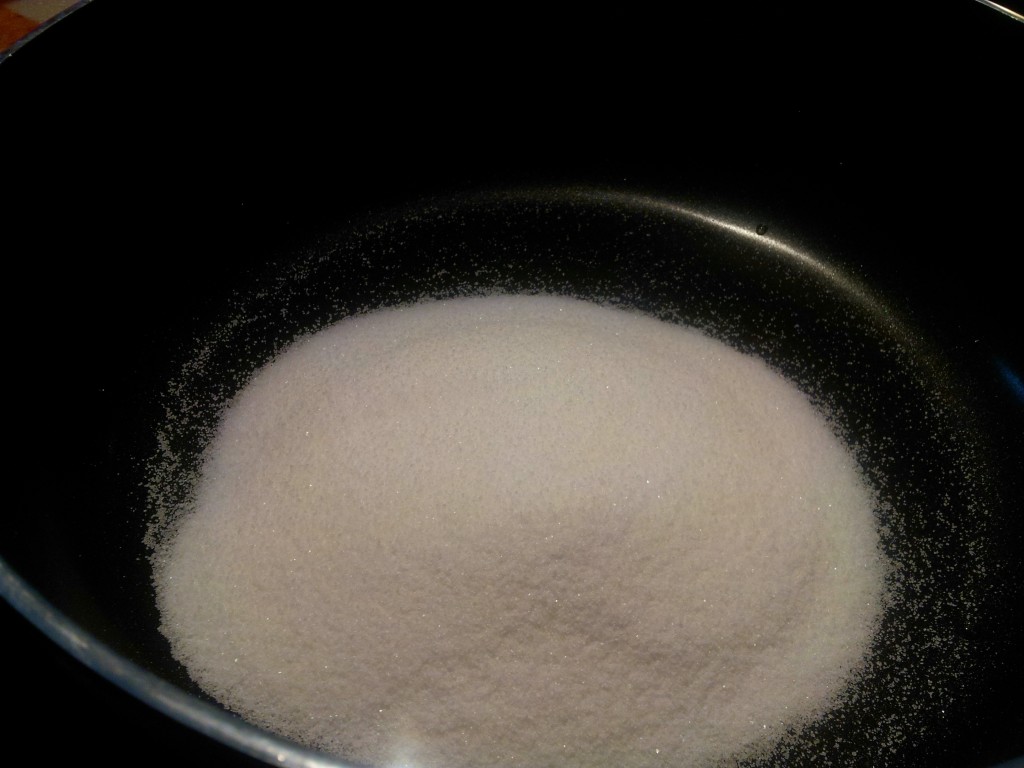 Why is sugar important in Shahi Gulab Jamun?
Have you ever wondered why we humans love and daily crave for sugar? Well sugar is not a new phenomenon, which is proven by many scientist that sugar is indeed an ancient craving. Not only humans crave for sugar, yet all civilization on Earth love rich in flavor and taste sugar. As we all know sugar in desserts are at its best. Who doesn't love and crave for Sugar? All over the world we need sugar for desserts. Sugar is the main and key ingredient for any dessert or sweet. This rule applies all over the world for sweets and desserts. The Sugar used in Shahi Gulab Jamun can be found in any grocery store nearby your house. There are many types of sugars out there. For example there would be confectioners or powdered sugar, white sugar, granulated sugar and a sugar that is very thick. You can use any sugar for Shahi Gulah Jamun, yet Miss OMGies had used granulated sugar.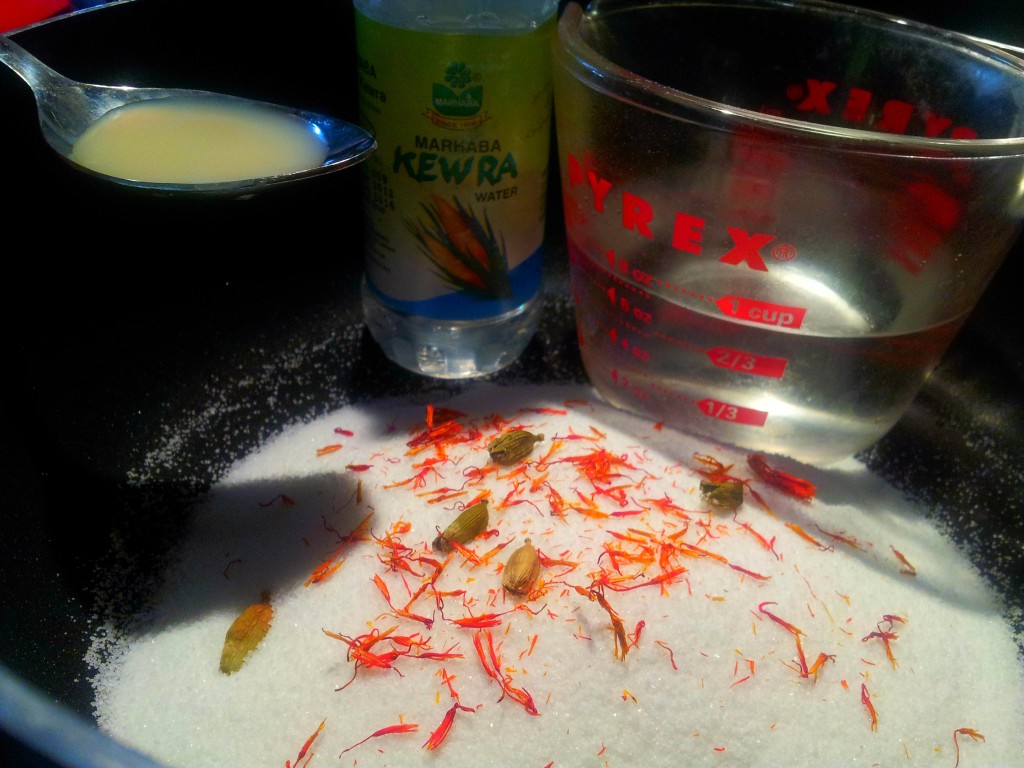 Ingredients to a Successful Shahi Gulab Jamun
This photo/picture describes the shasni/Gulab Jamun syrup. For the syrup you can use sugar, water, cardamom, lemon juice, saffron (kesar) and rose water/kewra. The reason why we use kewra or rose water…Any Guesses? Well for a great fragrance or aroma, Kewra indeed is the best as it drastically changes the taste. Moreover for a rosy smell while chewing your delicious Gulab Jamun it is important to add one table spoon of Kewra or rose water. To avoid crystallized I used one spoon of lemon juice.
Mix for Best Shahi Gulab Jamun
Know mix well these ingredients and heat until the sugar dissolves. Make sure the syrup is not too hot.
Perfect dough for Perfect Shahi Gulab Jamun
Add in milk powder, all purpose flower, semolina, butter/ghee and baking soda in to a smooth and perfect dough. Make mini balls out of the dough.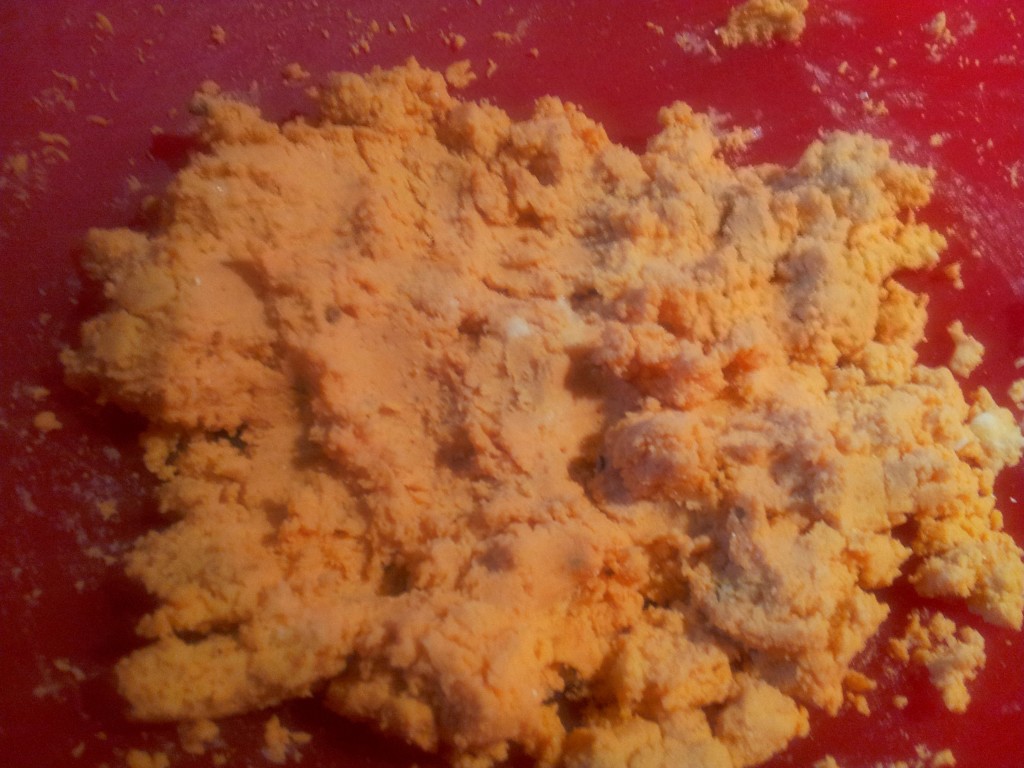 Deep Fry Gulab Jamun
Now deep fry the Gulab Jamun mini balls. Make sure the oil is on medium to high flame while frying. This step is important since if the flame is on high then the Gluab Jamun will not be cooked from size and hence may turn out to be uncooked. Therefore, it is necessary to fry on medium to high flame.
The road to Syrup Gulab Jamun
Now transfer the newly fried Gulab Jamun's into chashni or Gulab Jamun syrup and let the Gulab Jamun sit in the syrup for 20 minutes.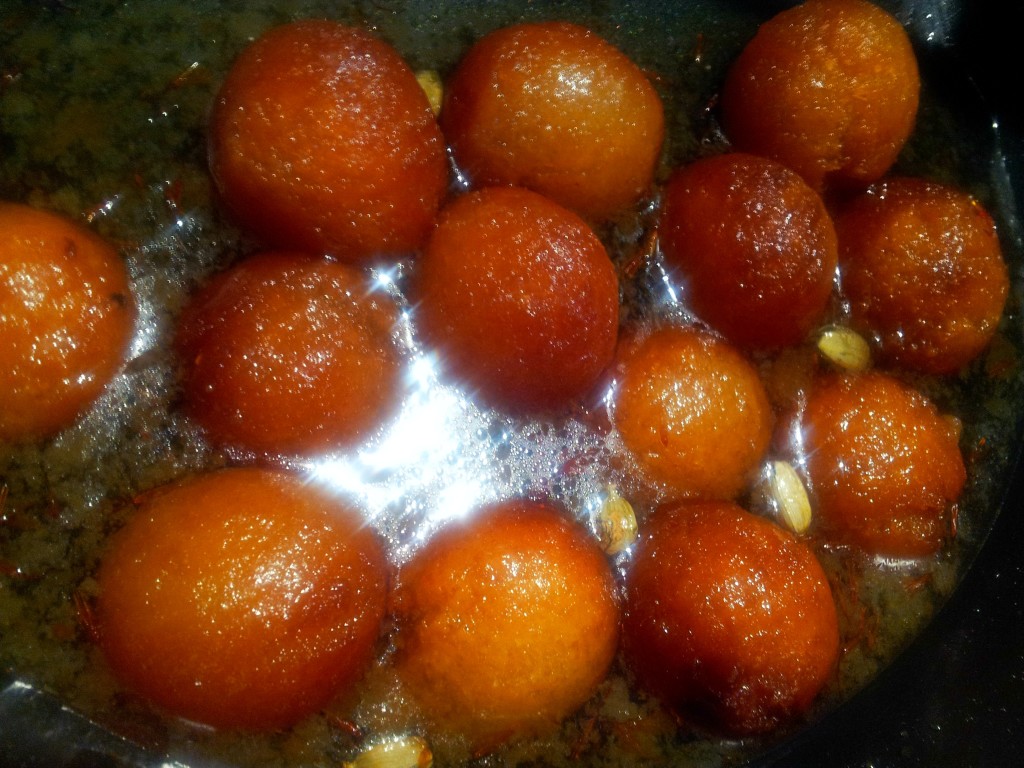 Fancy is Classy and Shahi is the New Trend. Go Traditional!
Dish out and garnish the Gulab Jamuns with edible silver foil (chandni ka warq). This adds a shahi looks the the Gulab Jamun's. Top the Gulab Jamun's with shredded coconuts and shopped almonds.
OMGies…..Gulab Jamun in the House!
These delicious and yummy Sweets are the real definition of TRUE LOVE. Gulab Jamun are soo soft and sweet…you and your guests will be drooling the moment y'all we see these love at first sight Gulab Jamun. The best part about these sizzling and adorable Gulab Jamun are that they are homemade. Homemade Recioes are life and they are made with pure love and dedication. You will be known for your dedication, motication and hard work after your guests, family friends and loved ones will try Gorgeous Gulab Jamun.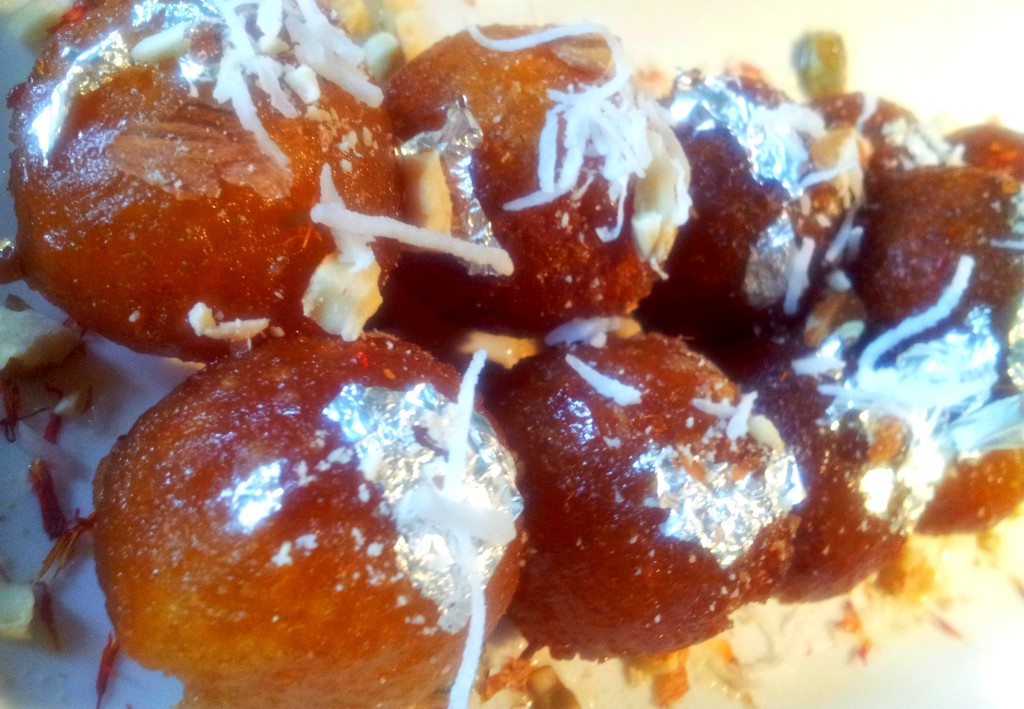 Well we all know that Shahi Gulab Jamun is best served for occasions like Eid ul Adha, Eid ul Fitr….you name it the list goes on and on. Daily we have craving of something new and special. The face is my friends all we need is something sweet and easy to chew. Indeed the answer is Gulab Jamun all the way!