Fig and Dates Vegan Cake Recipe
Ingredients
All Purpose Flour- 2 cups
Fresh Figs- 8 (steamed)
Dates- 10 (seeded)
Soy Milk- 1 & ½ cup
Sugar- 1 cup
White Vinegar- 1 tbsp
Salt- pinch
Vegetable Oil- ⅓ cup
Baking Soda-1 tsp
Almond Extract- 2 tsp
Instructions
Pre-Heat Oven on 350 F
Grease the sides and bottom of a 9 inch pan. Then flour the pan.
Using an electric blender, Blend well into paste: Fig, dates and vegetable oil. Now carefully blend in the remaining ingredients well.
Pour the cake mixture into the pan and bake for 35 mins or until the cake passes the toothpick test. Stick a toothpick into the center of the cake, if the toothpick comes out clean then the cake is fully baked.
 Cake Pops Recipe: 
Ingredients:
Cake (crumbs)- 3 cups
Vegan Frosting- 2 tbsp
Blue Chocolate Molds (melted)- as required to dip cake pops in.
Sprinkles- as required
Chocolate Pebbles- as required
Lolly Pop Sticks- as required

Method: 
In a suitable bowl, using your hands: making crumbs out of the cake you just baked.
For every 3 cups of Cake Crumbs add 2 tbsp of Vegan Frosting. Combined the two until the cake is solid but moist enough to form into balls.
Roll using hands and create mini balls from the cake mixture. Refrigerate the mini balls for 10 mins.
Now using melted chocolate and lolly-sticks: dip a inch of the lolly pop sticks in melted chocolate, and dip into the mini balls; and refrigerate for another 10 mins.
Melt your Blue Chocolate Molds in a dip-able mini bowl.
After dip your cake pops into the melted chocolate, and right away decorate with sprinkles around the bottom and chocolate pebbles towards the top. Set side on a styrofoam. So that they could dry.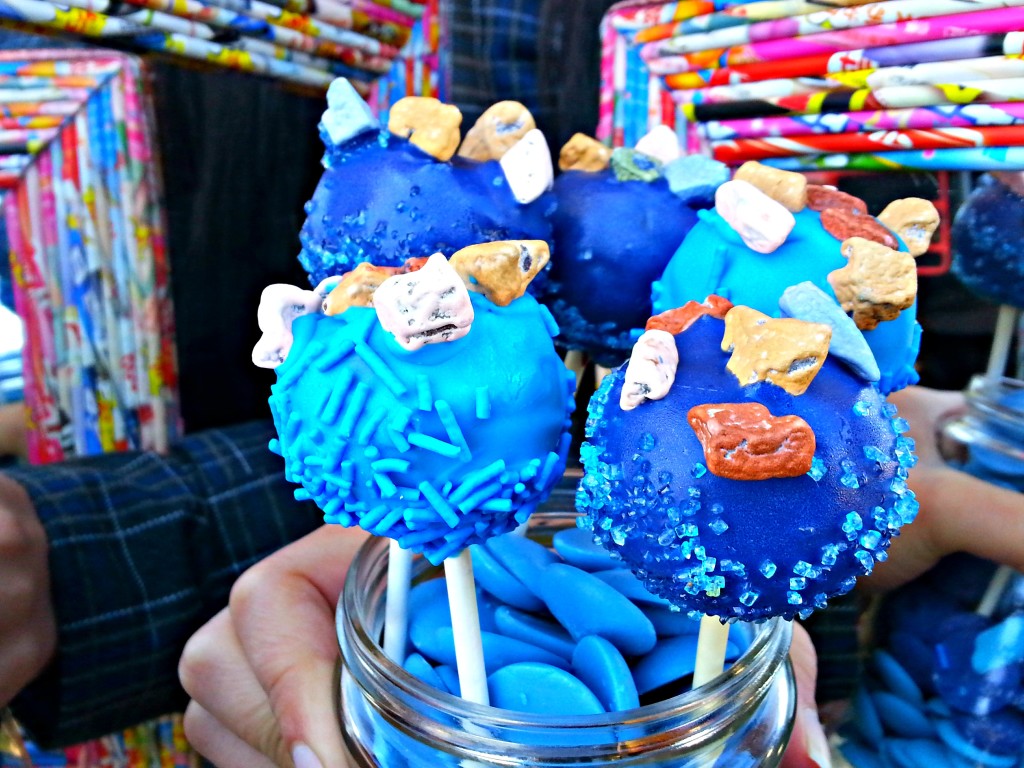 Cake Pops, Cake Pops and more Cake Pops
Cake Pops are extremely popular and famous in the sweet treat world today. Everyone desires for Cake Pops since it brings the fun, innovative and creative element with it. Attractive part about Cake Pops is that it is a fun treat that can be easily shared and enjoyed by everyone. We all love innovative ideas and Cake Pops has that new and dashing structure to it, which brings us all close to Cake Pops. Whether you are a toddler, teenager, young adult or senior citizen; we all are very much are found of the unique yet stunning Cake Pops. Go to any event, occasion or festival; heavenly Cake Pops will indeed steal the show. Cake Pops are perfect and acceptable for any show at any time. The best part about cake pops are that you can make it fit according to the party. As a culture we love innovative and unique ideas, which Cake Pops easily presents. Cake Pops are setting a new trend that is loved and enjoyed by everyone.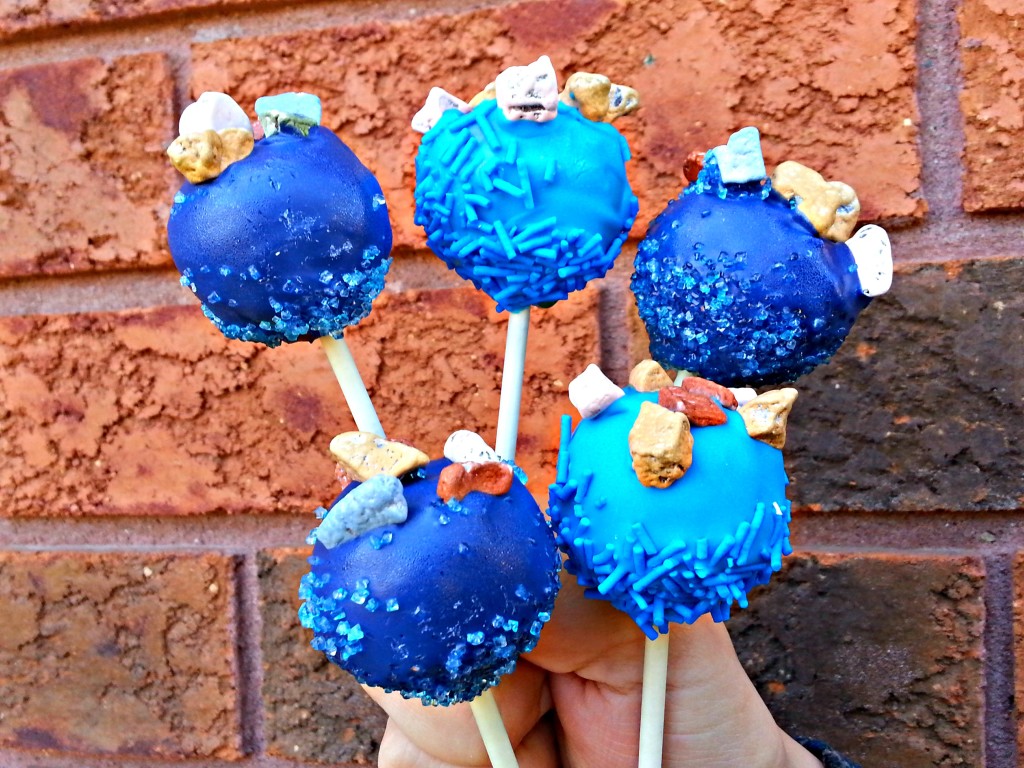 Cake Pops can be presented as cute/adorable, elegant, fancy or trendy. Cake Pops is shaped and designed according to ones preference and taste. The coating on top that wraps the cake can be designed in any way in order to match the occasion. Cake Pops can be shaped very simple to minimum design or extremely fancy with complex designs. All the decorations, coating and wrapping with candy and chocolate, is depended on the individual and how they want to present their creativity to their loved ones and friends. Always remember that if it doesn't work out the first time, don't worry, because practice makes perfect. Keep on trying until you are satisfied with your results. Remember once you excelled your fist Cake Pop, the rest journey is super easy and exciting. Time to Relax and have fun with cute and adorable Blue Cake Pops.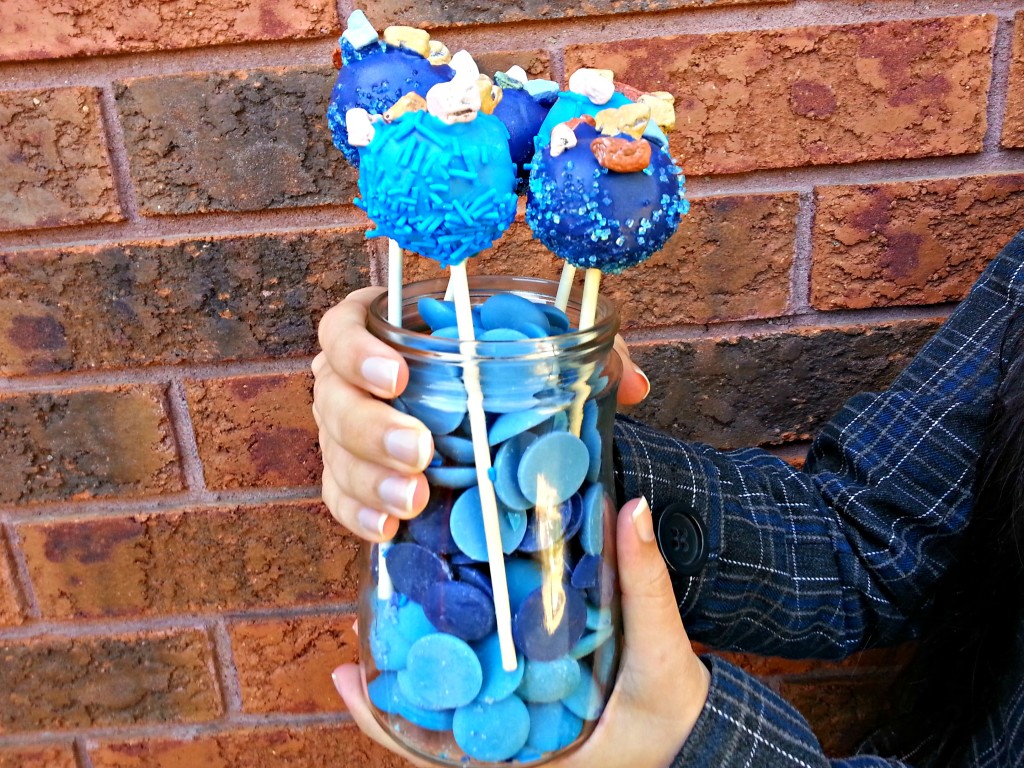 Cake Pops will not only give you an experience of homemade recipes, but also it will help you learn how to use your creativity. Cake Pops will give you an idea on what kind of cook you are, this will you will know more about yourself and what you are comfortable with. In our day to day lives we are not only experiencing new things in life but we are also discovering ourselves. Cake Pops give us all an opportunity to learn about new and easy recipes also we will be disclosing our own interest, which might be fascinating to learn about ourselves. Come out and learn something new about yourself!!
Blue Theme Cake Pops
These cute Blue Cake Pops are soo exotically delicious. You will for sure be obsessed with Blue theme Cake Pops. Blue is a color that is seen everywhere, such as when you go outside and look at the sky for example many of us will conclude that the sky is blue. Or nearby valleys, beaches, lakes, rivers, seas and even if you visit Niagara Fall, you will find the color blue. Nature for sure is in love with the color blue. Not just nature but even humans are found of the color blue. We think the color blue is associated with boys and the color pink is associated with girls. This is definitely not true; it's just a gender stereotype that has been sacred and glued in human brain. Even though this gender stereotype is pretty much present in our today's world but if you look around, you will get the answer. Such as if you look around especially in North America, individuals often wear a top and jeans. Blue jeans are for sure seen to be extremely popular, especially in North America. Blue is for sure the color that is favored and adored by everyone. Due to human preference and favor over the color blue, it has turned out to be the most popular and famous color in the world.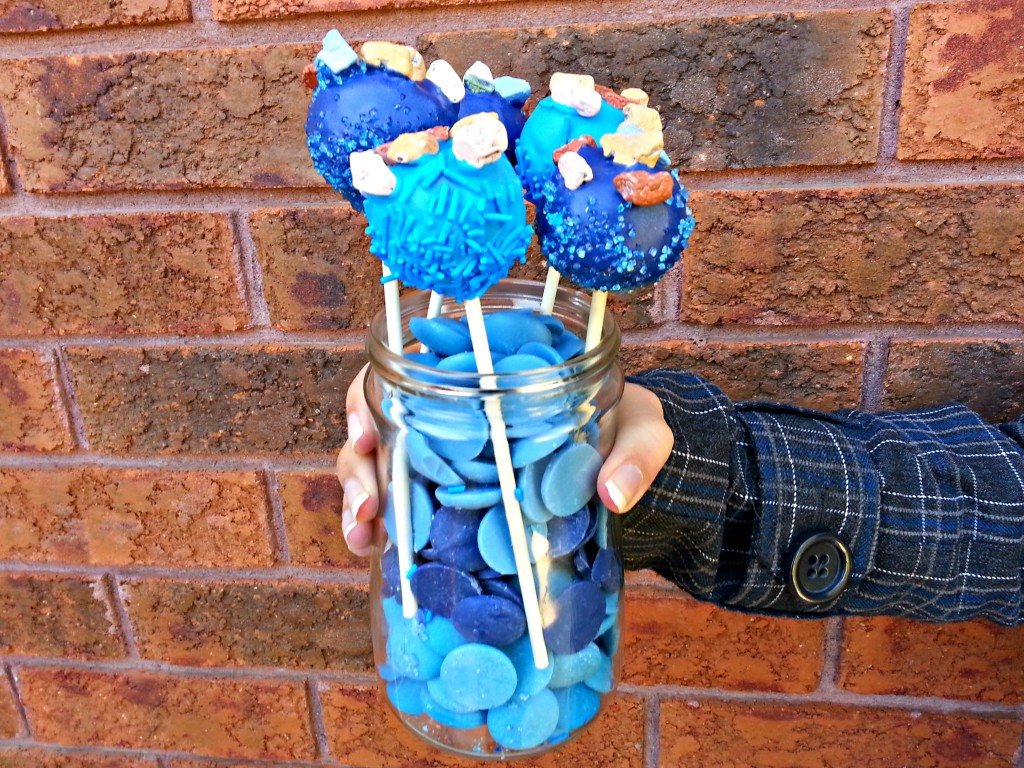 Have you ever wondered if colors have a deeper, literature meaning to them? Well everyone loves colors. Without colors this world would have been plain and boring. Colors bring in life and if they is no life there would be no purpose for happiness, love and joy. Colors have been used in literature, were poets have described feelings and emotions using colors. From a very young age we are told the importance of colors in story books such as fairy tale stories, they are very much bonded with the concept of colors and explaining its significance. For example red as blood or white as snow. Just like that the color Blue has its own significance and a deeper meaning which we do not realize. Blue is a color that symbolizes peace, hope, trust and loyalty. So why not spread love and kindness with friends and family through cute and adorable Blue Cake Pops.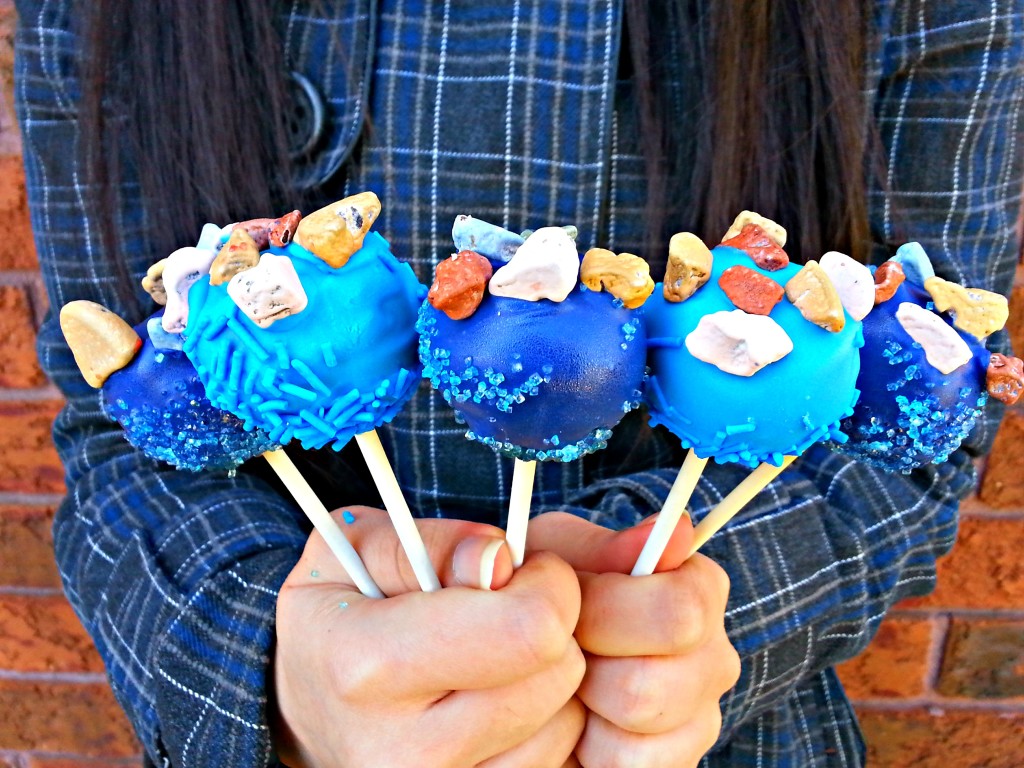 Let's Party with Cute Blue Cake Pops
If you are extremely confused and worried for your next big party event, then don't worry. Super cute and creative Blue Cake Pops are here to save the day. Do try these super cute blue cake pops in order to save precious time. Blue cake pops are soo creative and if you get frustrated with creativity then blue cake pops will help to de-stress yourself. Be creative with Blue Cake Pops; brainstorm ideas about how to design and decorate the Cake Pop which should match and be according to the theme of the Party. Remember to come up with fun ideas, since everyone loves something different and innovative. Repeating the same activity may lose individuals interest. Like Miss OMGies says: "Stand out and Blend out, cause blending in is so boring".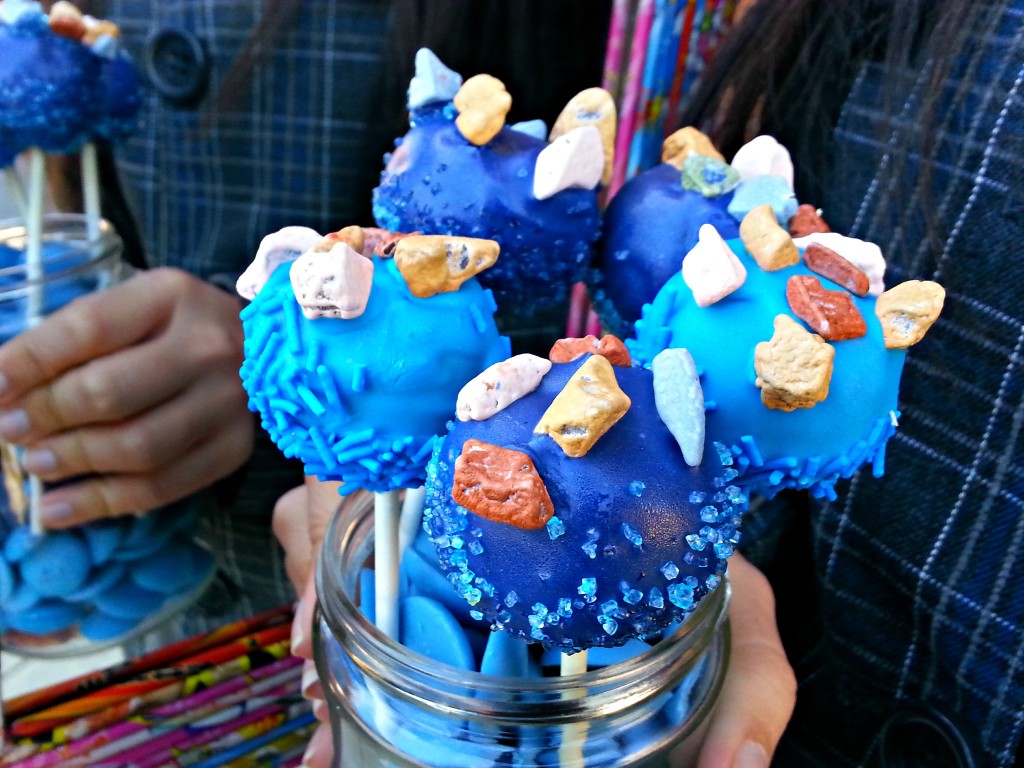 Your guests are going to fall in love with Blue Cake Pops right away. So simple and easy but hard to resist. Blue Cake Pops will satisfy you and vanish all your worries. You will totally enjoy each and every moment of preparing Blue Cake Pops. Cake Pops can be prepared with close family members. Join in your neighbors or even extended family members to join you in the journey of Cake Pops. Enjoying Cake Pops with friends and family is indeed a moment to be captured. Putting smiles on your loved ones face is a feeling of excitement, joy and happiness. This is an unforgettable moments, absolutely Priceless!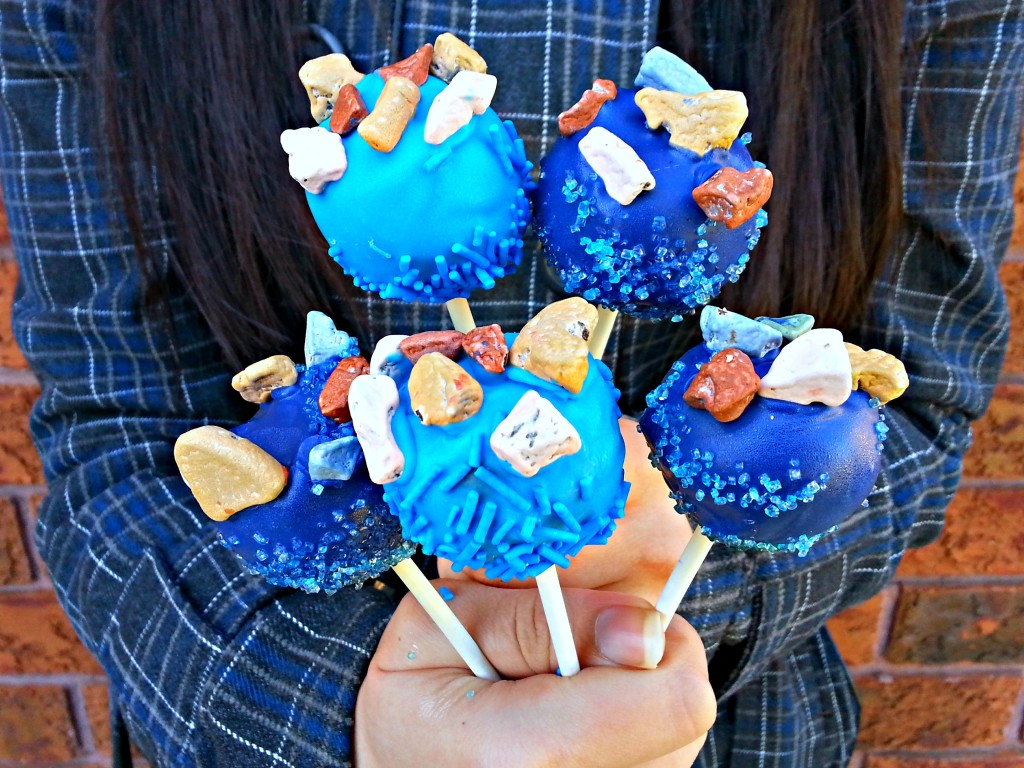 Decorating Blue Cake Pops
Use your creativity and have fun while you are decorating Cute Blue Cake Pops. All you need is a little bit of imagination in order to decorate these one of a kind sweet and adorable Blue Cake Pops. Decorating Cake Pops is indeed fun and enjoyable as the task allows you to be creative. Cake Pops can be decorated using fun edible sprinkles, chocolate toping, and highlighter dust in order to give the Cake Pop a metallic look, sugar sprinkles, candy melts, glitters, shimmering food colors and graphical decorations. In order to give your Cake Pop an excellent and beautiful finishing touch do try your favorite decorations. Design can be elaborate or simple it depends on your style and taste. Come out and have fun with Blue Cake Pops.