Ingredients for Dough
All purpose flour (Maida)- 1 cup

Salt- 1/2 tsp

Baking Soda- a pinch

Ghee/oil- 2 tbsp

Water- as required to make the dough
Ingredients for filling
Moong Dal (Yellow Spilt Gram) (chopped) – 1 cup (wash and soak for 2-4 hours)

Green Chilli (chopped)- 2

Onion (chopped)- 1

Tomatoes (chopped)- 1

Cumin seeds (zeera)- 1/4 tsp

Fennel seeds (sunf)- 1/4 tsp

Garam masala- 1 tsp

Coriander powder- 1 tsp

Ginger (grated) – 1 tsp

Mango powder/chaat masala- 1 tsp

Red chilli powder- 1tsp

Ghee/oil- 2 tsp

Salt- as per required
Ingredients for frying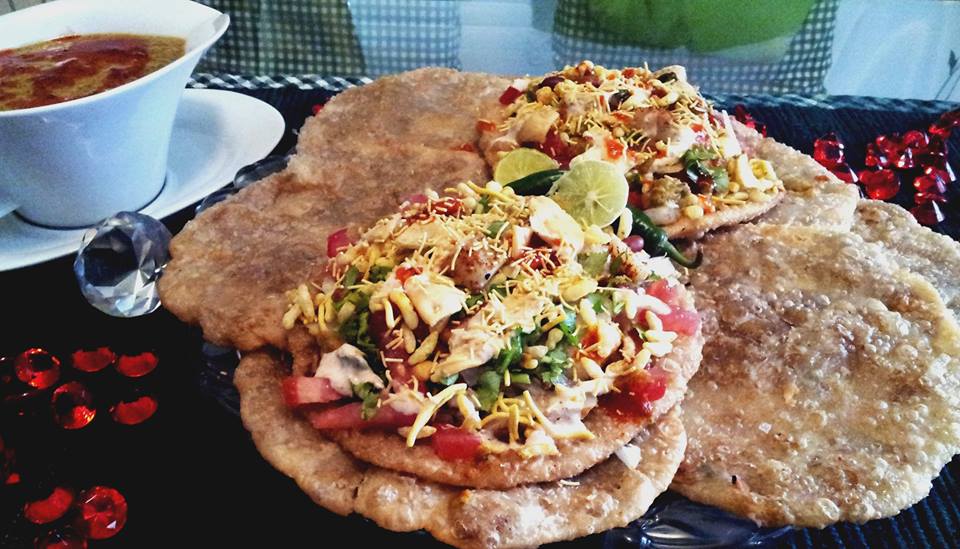 Directions
In a suitable bowl, combine all the ingredients for the dough to form a soft and smooth dough. Cover with a wet muslin cloth and keep aside for 20- 30 minutes.

In a non-stick frying pan, add oil and cumin seeds. When the cumin seeds splutter, add in the Moong Dal and the above ingredients for filling. And cook the dal until golden-ish brown on low heat. And dish out to cool.

Tip: You will get a nice aroma once made

Divide the dough in equal size and add in the filling according to your dough size and choice. Now roll out your dough carefully and deep fry until each side is golden-ish brown.
Khasta Kachori Chaat:
On the top of the kachori, Garnish with chopped: onions, coriander leaves, tomatoes, potatoes, dal sev, and add your favorite chutneys…. AND ENJOY… Cause your WORTH IT :D…..
With Step PICTURES… JUST FOR U :