Its so distinct in flavor, wonderful in spices, tempting in taste…. Well do you know that this spectacular dish is known across South Asian restaurants. OMGies this homemade recipe is known for its 'easy and quick to mesmerize' in nature. With its passionate smell and joyful nature Dhaka Chicken Curry is here to spread love, warmth and happiness. Dhaka is a special traditional recipe that is prepared at its finest in Bangladesh, Afghan, Pakistan, Punjab. The love for Dhaka Chicken Curry does not end here, it is very much popular in the Western World.
Dhaka Chicken Curry
2016-06-16 23:35:58
Ingredients
Chicken Breast (cut)- 1 and 1/2 pound
Onions (chopped)- 1 or 2
Tomato Paste- 1/4 cup
Coriander (chopped)-1/4 cup
Ginger (sliced)- 2 tbsp
Bay Leaves- 2
Salt- to taste
All spice powder- 1 tsp
Crushed Cumin- 1 tbsp
Coriander Crushed-1 tbsp
Turmeric Powder- 1 tsp
Red Chili Powder- 1 tbsp
Water- 1/2 cup
Oil-1/2 cup
Instructions
In a suitable non-stick-able wok pan, heat oil on medium to high. Add in Onions and saute for one minute, Add bay leaves and saute for 30 seconds. Now add in Chicken and turn the heat to medium to low and let the chicken cook with a pan lid.
When chicken has changed its color, add in Tomato Paste, All Spice Powder, Crushed Cumin, Coriander Crushed, Red Chili Powder, Turmeric Powder, Salt, and water. Cook on low flame for 15 minutes with a lid pan.
When everything is cooked and a nice aroma arises, dish-out and garnish with Coriander, Ginger and ENJOY
OMGies... http://omgies.com/
The best way to make Dhaka chicken curry is with chicken breast. As we all know that chicken breast is an incredibly great source of protein. Not only will chicken breast boost your energy but it is quick to prepare. Low-fat chicken breast is a superb option for any curry recipe, due to its simplicity.
Onion is an essential and versatile ingredient for any South Asian recipe. Not only is onion an essential component however this fabulous ingredient is an important part of a cook's everyday life. Onion's enhances the flavor for any chicken curry recipe as fried onions contains an authentic aroma which helps the raw smell from the chicken vanish.
Tomato paste brings taste, velvety texture and color into Dhaka Chicken. Remember if your Dhaka Chicken is tasteless and has a dull color just add in Tomato paste, it will for sure save your Dhaka Chicken Curry from ending up to be a disaster.
Here comes the most thrilling part to Dhaka Chicken Curry. How can one forget about special ingredients: Ginger and Coriander when we are talking about South Asian cuisine? Both ginger and coriander enhances the appearance, which gives the Dhaka Chicken Curry a wonderful look. In order to further digest Dhaka Chicken Curry, ginger and coriander are the best ingredients. Great for digestive system, both ingredients are pleasing to the eye.
Bay leafs are commonly used in North America. Bay leaves also called aromatic leaves add in freshness and aroma into any recipe. Bay leaves are known for its speciality and uniqness as these aromatic leaves are especially used in Dhaka Chicken Curry in order to give the dish distinctive flavor and fragrance.
Evidently, every cuisine has its own species in order to enhance flavor, texture or the overall presentation and appearance of the dish. Hence species play a huge role in making a dish special and attractive to its consumers. Similarly, red chili power and turmeric powder both have a unique and different flavor, however when combined Dhaka Chicken Curry tastes wonderful.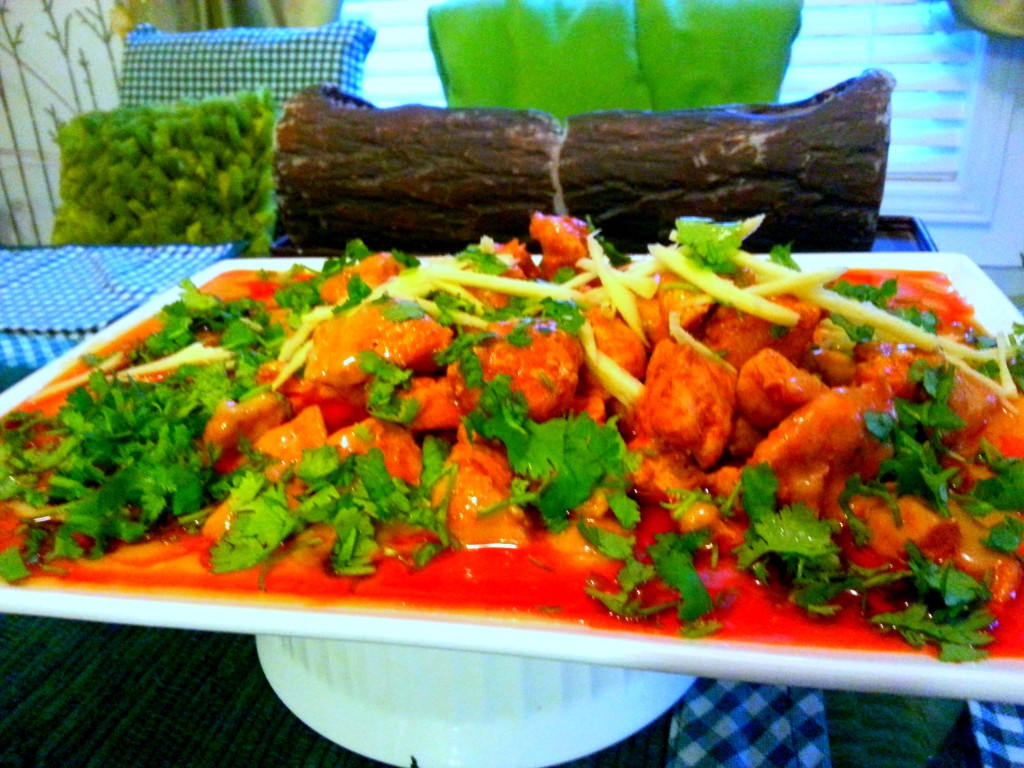 Best served with Dhaka Chicken Curry
Dhaka Chicken Curry can be enjoyed with variety of favorite homemade recipes. The debate is endless whether Dhaka Chicken Curry is best served and enjoyed with Basmati rice, naan, chapatti, salad.