Turkish Kebab- Recipe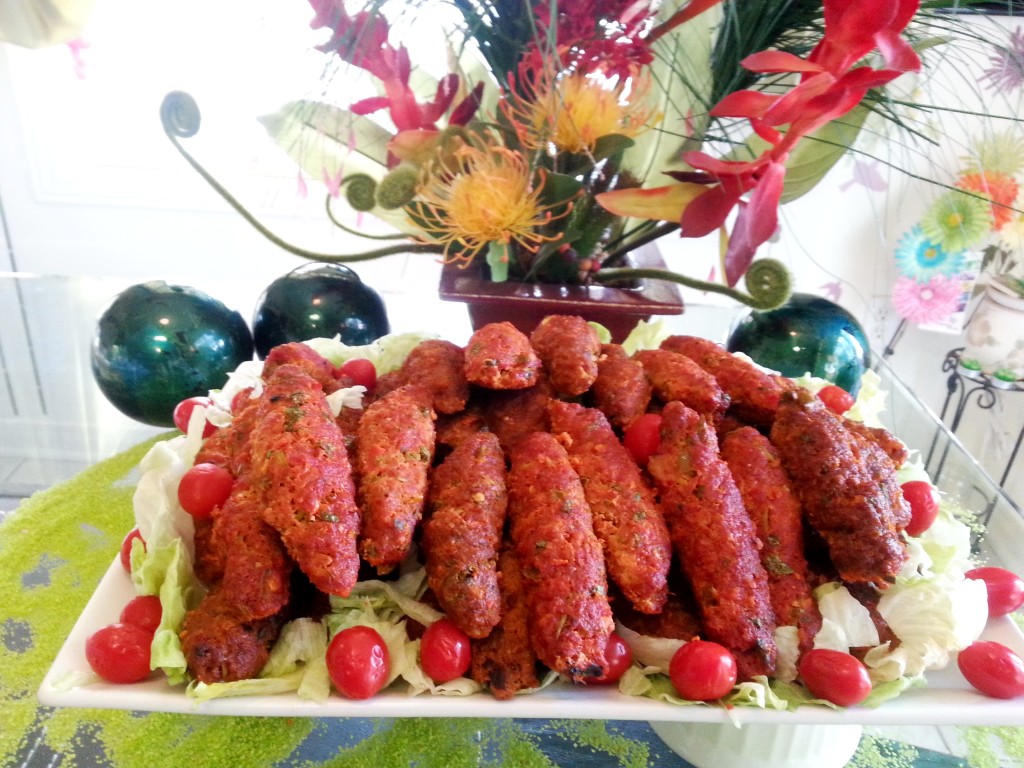 Turkish Kabeb Recipe:
Ground beef or Lamb- 1 pound
Red Onion – 1
Garlic (Minced)- 1 tsp
Dried Oregano- 1 tbsp
Cumin and coriander seeds- 1 tsp
Paprika- 1 tsp
Parsley (chopped)- 1/4 cup
Cayenne Pepper-1 tsp
Salt- 1 tsp
Pepper- 1 tsp
Olive Oil- 2 tbsp
Food Color Optional
Method:
In a bowl combine all ingredients mix well and marinate for 2 hours atleast. (place in refrigerator)
In a suitable frying pan, drop some oil and fry each sides of the Kebabs until cooked.
Dishout
Note- you can freeze them for one month and use them when ever it is required.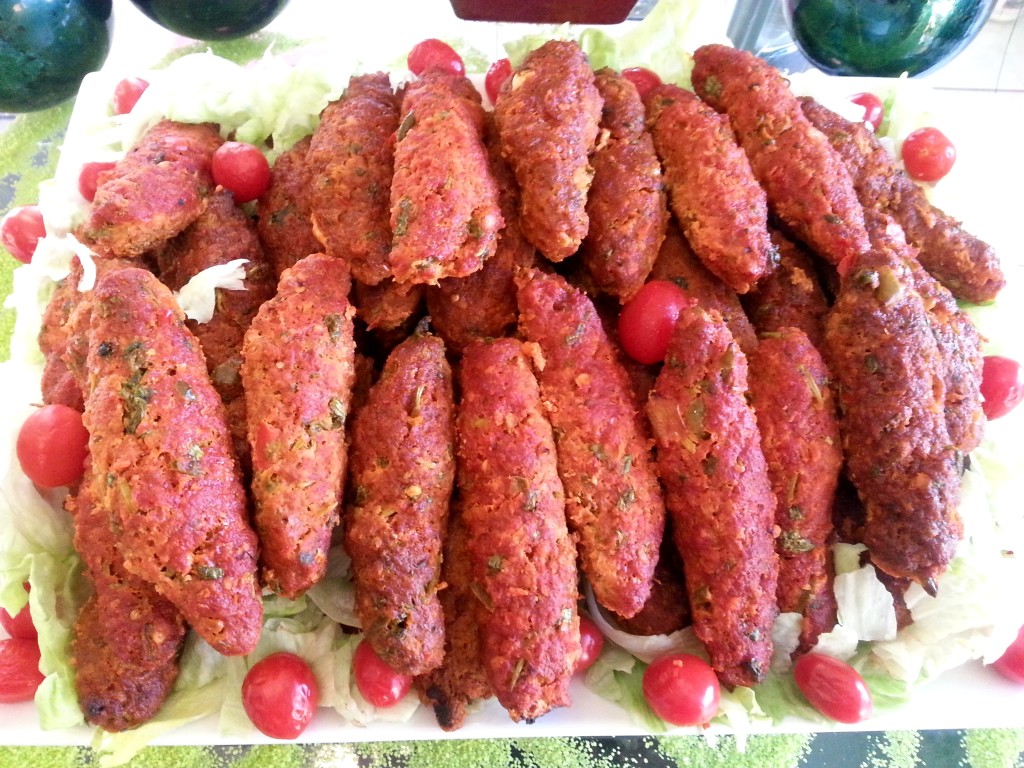 Ideal Snack Turkish Kebab
Turkish kebab is an ideal snack and appetizer that can be eaten throughout the day. Even if you are hungry late at night or after continuous hours of studying for an exam, a bite of Turkish Kebab can play a role of energize and provides tons of proteins. Turkish Kebab as a snack is a great way to promote healthy living and good nutrition. Promoting healthy choices by preparing Turkish kebab will boost your exhausted body. Indeed Turkish Kebab is an amazing party snack and appetizer that can be enjoyed with family, friends and loved ones. Individuals are extremely busy due to their day to day transactions. As due to busy schedules individuals don't eat enough and not necessarily eating one meal is enough to stay full. Snacking is seen extremely important for both young individuals and adults. Advertising junk food targets the younger audience, it is important for parents to promote healthy choices. Kids love junk food due to the taste and mass media advertisement. Junk food is easy to access and easy to eat, yet healthy foods are not as eatable. It is the parent's responsibility to make healthy food look soo presentable and beautiful that kids will get attracted and would want to choose healthy over junk food. Healthy snacking can lead to a great lifestyle and benefit nutritionally. Meeting certain nutritional requirement is important to function throughout the day. Turkish Kebab can fulfill nutritional requirements which can build a helpful foundation of healthy eating choices. Smarter choices can be secured for a lifetime. Snacks are beneficial in increasing an individual's energy and ability to focus and concentration.
Popular Turkish Kebab
Kebab is highly popular in Middle East; it is seen as a prominent meal for the day. The dream come true Kebab is not isolated from the Western World. Even in North America, Kebab is found and served in restaurants. Receiving enormous compliments and fame, Kebab is for sure becoming an everyday routine for many individuals residing outside of Middle East. Indeed the popular must-have meal is a growing trend in the Western World. Turkish Kebab is increasing and growing worldwide. Individuals awareness about Turkish Kebab is on a boom, as it is made different according to suit the cultural adaption. Turkish Kebab's are different and unique in style across the world. Indeed Kebab's are becoming a popular choice of consumption around the world; you will not get tired of eating Turkish Kebab's.
Turkish Kebab: A Healthy Choice
Kebab being a famous dinning option around the globe is seen to be an essential healthy choice. Turkish Kebab is a healthy choice for not only adults but for kids as well. Turkish Kebab is a great after school snack and appetizer that kids would truly love and enjoy. Parents always want the best for their children, whether it is at home or in school. Focusing on the right healthy choices for students can make a huge difference in their learning style. Eating healthy has a direct link to academics! As a parent you should concentrate entirely on your child's snacking choices at home. It is also important to control snacking options at school as well. After school snacks like Turkish kebab can promote kids to understand healthy eating benefits. Not only kids would enjoy eating Turkish Kebab, but also kids can help parents prepare and use their own creativity in forming their own Kebab. Evidently Healthy after school snacks can allow kids to perform better in school and achieve higher academically. As healthy snacks boost energy and improve the little ones mood along with satisfying their craving and hunger of the day. Turkish Kebab indeed promotes an individual's healthy living style; parents can know be satisfied and help enhance their own diet along with concentrating on their children.
Side dish with Turkish Kebab
To enhance the flavour of fabulous Turkish Kebab and to get an exotic awesome taste, best homemade side dishes can give a magical combination to the meal. Perfect and tasty side dishes for Turkish Kebab are Greek Salad, hummus, Tahini sauce, and Garlic sauce, Mint and yogurt dip. Moreover you can enjoy with rice and crispy and yummy pita bread. Turkish Kebab can be turned into Shawarma or Pita role. Ending with Baklawa or Kahwa/Qahwa Tea (Arabic Coffee) makes an awesome combination. Discover these yummy and delicious easy to make side dishes today! One in a kind magnificent side dish will accompany and compliment the fabulous Turkish Kebob. Side dishes are magical as it creates and gives a mind-blowing result. Easy to prepare Superfast Homemade side dishes are indeed a good match for any flavorful main course dish. Side dishes are easily prepared and the ingredients are available at nearby supermarket. These side dishes ideas can be used for any occasion or event as it will complete your main course meal. Easy and Quick side dish should be prepared and loved by all. Try something new today and fascinate family and friends with wonderful and new side dishes.