Red Velvet Cake Pops are totally as delicious and loved as Red Velvet Cake. Red Velvet Cakes are really the trending since 2014. Its 2017 and they are still loved and still everyone wants to know the special recipe that gets the world drooling over. Well worry not my friend lol (scroll down to the recipe card, and BAKE). Red Velvet Cakes are so Moist and RED (under-statement). Red Velvet Cakes are Life, yet Red Velvet Cake Pops are Heaven. These Exotic Red Velvet Cake Pops are Delicious and Creative. This Red Velvet Cake Pops Recipe is so Super easy & simple. #RedVelvetCakePops #InLove #Exotic #OMGies.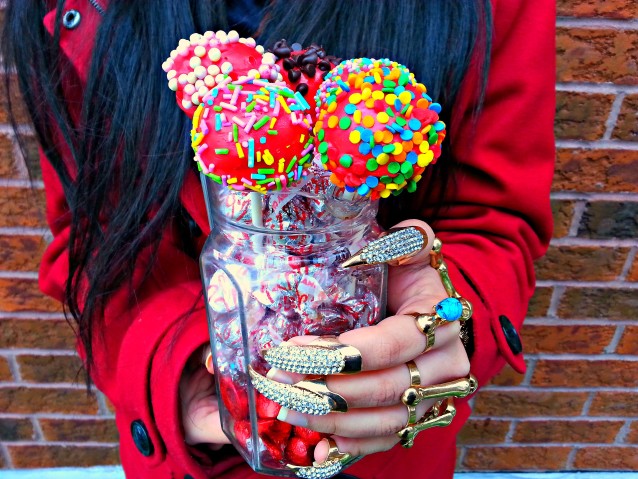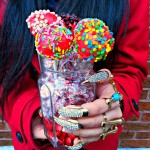 Red Velvet Cake Pops
2016-03-01 10:20:00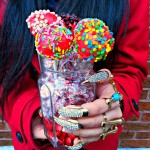 So Sweet with a Sensational Taste, that will WIN all HEARTS!
Ingredients for Red Velvet Cake
All Purpose Flour- 2 cups
Butter (room temp, softened)- 1/2 cup
Eggs- 2
Buttermilk- 1 cup
Cocoa Powder (unsweetened)- 2 tbsp
Sugar- 1 and 3/4 cup
Salt- 1/4 tsp
Baking Soda- 1 tsp
Baking Powder- 1 tsp
Red Food-Color- 1/4 cup
Vanilla Extract- 2 tsp
Ingredients for Cake Pops
Cake (crumbs)- 3 cups
White Frosting- 2 tbsp
Red Chocolate Molds (melted)- as required to dip cake pops in.
Sprinkle topping- as required
Lolly Pop Sticks- as required
Directions for Cake
PreHeat Oven on 350 F
Add all the dry ingredients in a bowl and mix lightly: All Purpose Flour, Baking Soda, Baking Powder, Salt, Cocoa Powder, and Sugar.
Separately blend: Sugar, and Butter until cream. Now add in eggs and blend. Carefully (using a baking spatula) add in the dry ingredients with Buttermilk, Vanilla Extract and Red Food Color.
Add in the cake mixture into 9 inch springform pan and bake for around 25 mins (or until fully cooked (by testing with a tooth-pick)).
Remove from oven and let the cake cool for 15 mins.
Directions for Cake Pops
In a suitable bowl, using your hands: making crumbs out of the cake you just baked.
For every 3 cups of Cake Crumbs add 2 tbsp of White Cake Frosting. Combined the two until the cake is solid but moist enough to form into balls.
Roll using hands and create mini balls from the cake mixture. Refrigerate the mini balls for 10 mins.
Now using melted chocolate and lolly-sticks: dip a inch of the lolly pop sticks in melted colored chocolate, and dip into the mini balls; and refrigerate for another 10 mins.
Melt your Red Chocolate Molds in a dip-able mini bowl.
After dip your cake pops into the melted chocolate, and right away decorate with sprinkles and set side on a styrofoam. So that they could dry.
ENJOY
Notes
For every 3 cups of Cake Crumbs add 2 tbsp of White Cake Frosting. Since the Cake itself is very moist. And adding to much frosting will end up creating the Cake Pops to break while adding it to Chocolate Molds!
OMGies... http://omgies.com/