Arabeya or Arabic Coffee. This beverage is Highly luxurious, and is best served with dates or snacks. Arabs show their hospitality, kindness, and love through great quality Qahawa. 
Khawa Tea or also called Al-Qahwa is a special coffee served and prepared in many Middle Eastern and Arab countries. Al-Qahwa is an old tradition that represents the culture, tradition and style of Royal Arabs. Qahwa is a symbol of hospitality, togetherness, love and happiness. Qahwa Coffee is a hot and soothing Beverage that can be served and stunningly presented with appetizers. The coffee is presented with dates, dry fruits, sweets and snacks. In Middle East, Arabs serve Qahwa Coffee in events, social gatherings, and special occasions. Also Qahwa Coffee can be enjoyed on a regular day at home with family. Whether it is wedding, anniversary, family ceremony or majlis, Qahwa Coffee is served with a great and royal honour. Qahwa Coffee signifies togetherness, were guests are special and highlighted in each and every gathering.
Qahwa Coffee is a way to stay connected with the people you love, appreciate and care about. The Hot beverage helps individuals sustain and maintain society which strengthens their cultural and traditional roots. It is a way to make people feel that they belong in a group; individuals want to be valued and to have a sense of belonging. Regardless of ones culture it is human nature to have a sense of belonging, individuals want to be accepted in society. That is why humans find ways to connect and form social groups. Accordingly, the timeless Qahwa Coffee helps individuals to feel connected and gives us humans a reason to form social events and occasions so we all can come together as a culture and unite. I opened my eyes in this atmosphere, I still can recall my journey of the beautiful tradition of Qahwah. Qahwa Coffee was known as an awesome, delicious traditional and cultural beverage. For holidays and weekends in Riyadh, our family friends use to booke a resort and call all close friends over to spend time together, in Saudi Arabia.
Resorts in Riyadh were highly luxurious accommodations, the atmosphere was just wonderful as the resort we stayed in, served great quality Qahwa Coffee. There presentation was marvellous; it is evident that Qahwa Coffee was ideally ever guests favorite beverage. Honestly this is one of a kind Beverage, worth a try. Hence Qahwa was easily available and extremely important in any social events and occasions. Individuals were emotionally connected to Qahwa Coffe as it represented who they are. In any society emotion plays an important role as it unites people. I can recall that when we took Saudi Airline, in first class, the airhostess with happiness and love they always served Qahwa Coffee. Qahwa Coffee was always presented with a beautiful hospitality. Qahwa was served with silver foil almond dates and bakery goods for children. As a child I was always fascinated by their hospitality and decorations. They had the WOW factor, from the appearance to the taste and flavor it was soo special and unique.
Kahwa Tea
The Tea you have been waiting for
Ingredients
Kahwa Tea Leaves- 1 tbsp
Cardamon Powder- 1 tsp
Cinnamon Powder- ¼ tsp
Saffron Strands- ½ tsp
Rosewater- 1 tbsp
Water- 3 cups
Honey- Optional
Instructions
In a pan, pour water with Kahwa Tea Leaves, Cardamon Powder, Cinnamon Powder, Saffron, Rosewater and bring to boil. And Simmer for 10 mins.
Strain the tea and ENJOY
Notes
In Middle East- Qahawa is served in a Long Neck Sliver or Golden Jug with Dates or Snacks.
The Taste of Qahawa or Kahwa is a bit Bitter.
Never use Sugar, honey is best suitable for this tea.
Nutrition Information
Calories:
3
Carbohydrates:
1g
Sodium:
1mg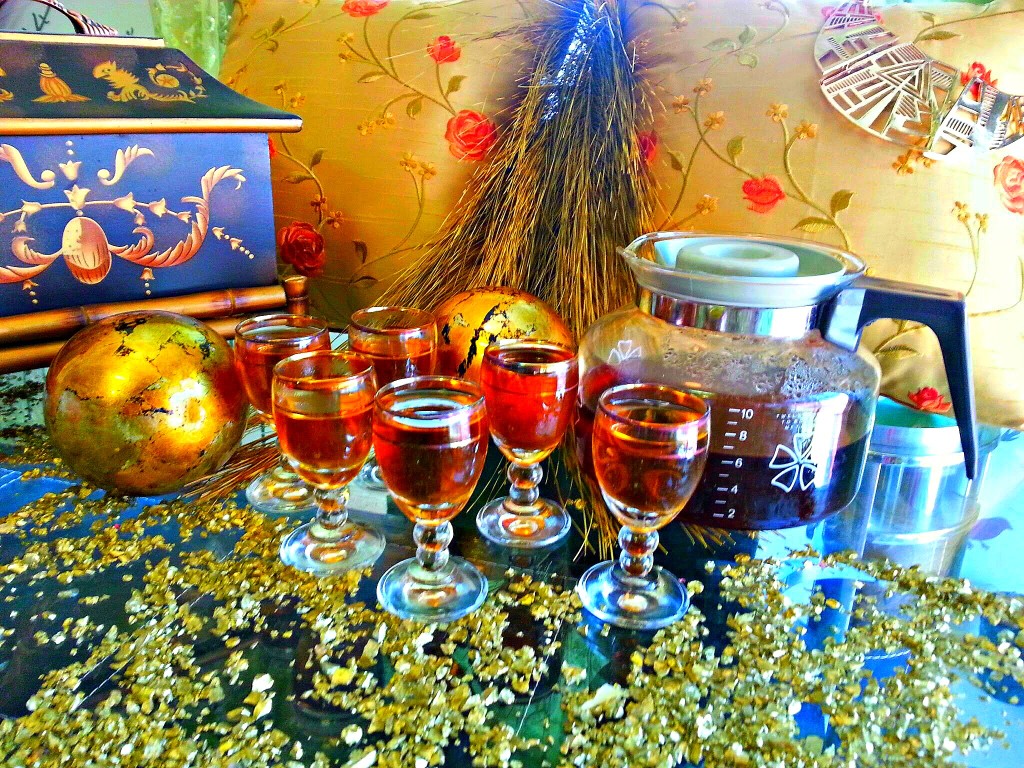 My older sister went to Princesses Sarah bin Fasal British School. In parents meetings, and student programs which i also attended, with little vocal skills I remember the school always served Qahwa Coffee. They also had a unique style, as they included appetizers and candies for little kids and Qahwa Coffee was served in Long Silver Jug. For family members and little siblings the school use to give us gifts as it showed that the school care and loves not only their students but also their family. The School was like a Big Happy Family!! Through Qahwa Coffee, they presented their tradition, culture in a unique and rich style. This taste is marvellous as it is little bit bitter, but if you want the bitter to go away you are welcome to add honey. Honey compliments Qahwa Coffee, as sugar substitute's honey. The ingredient is kept natural. Hence sugar is not used and lemon is optional as per ones taste, preference and flavor.
In North America Qahwa Coffee also known as Khawa Tea is not that famous as it is in the Middle East. Yet if you want to try a hot and soothing beverage in order to relax your mind than Khawah Tea is totally worth a try. It is evident that individuals around the world are extremely busy in their day to day lives. We all have soo much work to do, daily, that when we come from work, we are all tired and exhausted. Due to being tired we often forget to spend time with the special people in our lives. Humans are now spending more time at work and less time quality time with family members. Well Khawa Tea is here, and it comes as a stress releaser. You should try Khawa tea, and within no time all your tiredness of the day will vanish. Thus, you will be calmer and your mood would be set. You can now make plans for family activites in the evening and night. Spending wonderful time with family before going to bed is a way to show love and care. Khawa tea is great, in order to relax and calm yourself from the long and restless day. The fragnance is soo beautiful it will make your atmosphere delightful.
Khawa Tea can be compared to a green tea and it can be served with bakery sweets. You can drink Khawa Tea alone or with your loved ones. Also don't get limit Khawa tea for only at home beverage it can also be enjoyed with friends. If your friends are coming over than with your appetizer, you can serve Khawa Tea. It`s a great combination for any formal house party. Formal house party is seen as a ritualized gathering, was friends and closed ones are invited. In this party, you can serve Khawa Tea with sweets or bakery goods. Meal can be served as the main course with appetizers. You table would look amazing with Khawa tea, and if you want to go more fancy you can also include mini decorations such as surround the edges of the table with flowers.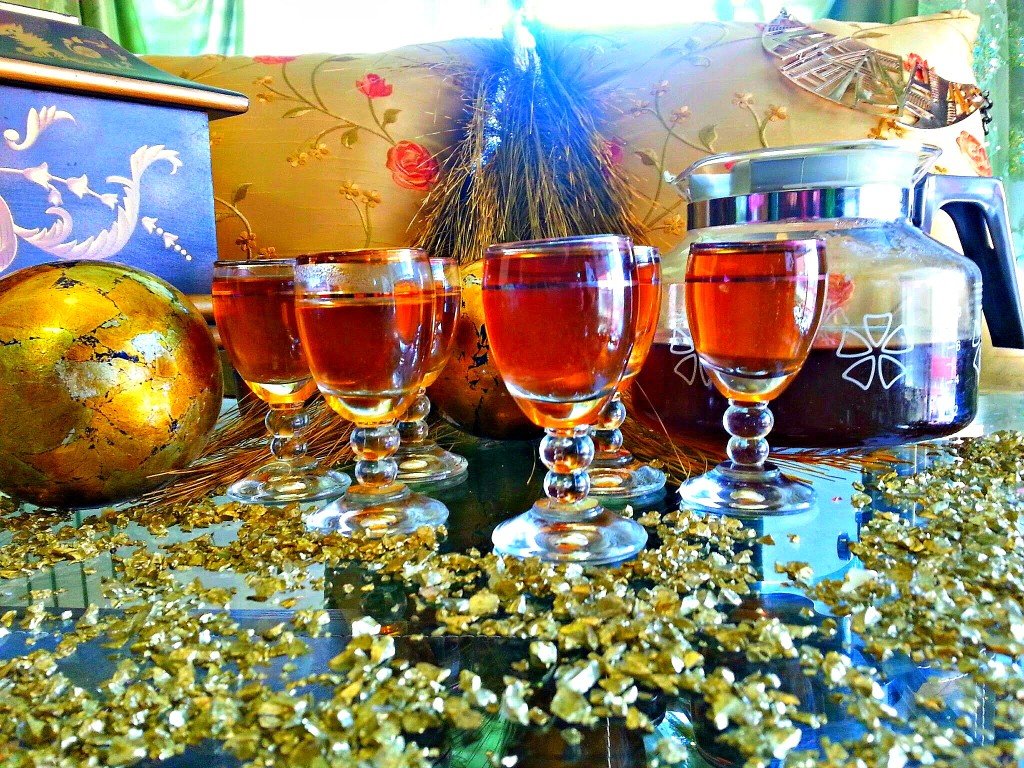 Summary
Published On
Average Rating





Based on 1 Review(s)