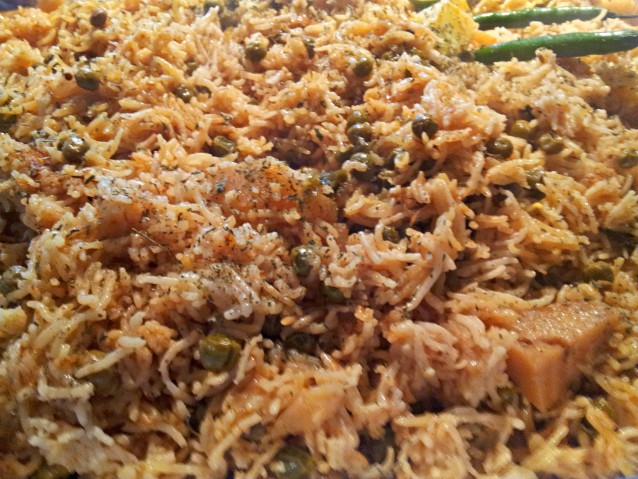 Also known as Peas and Potato Rice
Ingredients:
Basmati Rice – 1 cup (soaked in water for 20 minutes)
Onion – 2 sliced lengthwise
Ginger and Garlic paste – 1 tbsp
Tomato diced – 2
Potatoes – 2 large
Green Peas- 1 cup
Cilantro- 1/4 cup
Green chili- 4
Coriander powder- 1 tsp
Red Chilli powder – 1/2 tsp
Turmeric powder- 1 tsp
Whole Garam Masala- 1/4 tsp
Cumin- 1/4 tsp
Yogurt – 3 tbsp
Salt – to taste
Oil – for frying onions
Water – 1.5 cups
Bayleaf – 1/2
Method:
Heat oil in a suitable pot then add onion fry till slightly browned. Add cumin, green chili, garlic ginger paste, tomato and cook till raw smell leaves.

Then add the green peas, potatoes, coriander, cilantro, whole garam masala, red chili power, turmeric power, whole garam masala, yogurt, salt, mix well for few minutes till raw smell leaves.

Add the pre-soaked rice in the pot, with water, and cover the top with foil and pot lid.

For the first five minutes cook in high heat; then lower the heat to low flame for 20 minutes.

Now garnish your Pulao with desired decor ( green chili and lemon halves). Experience a taste that you will never forget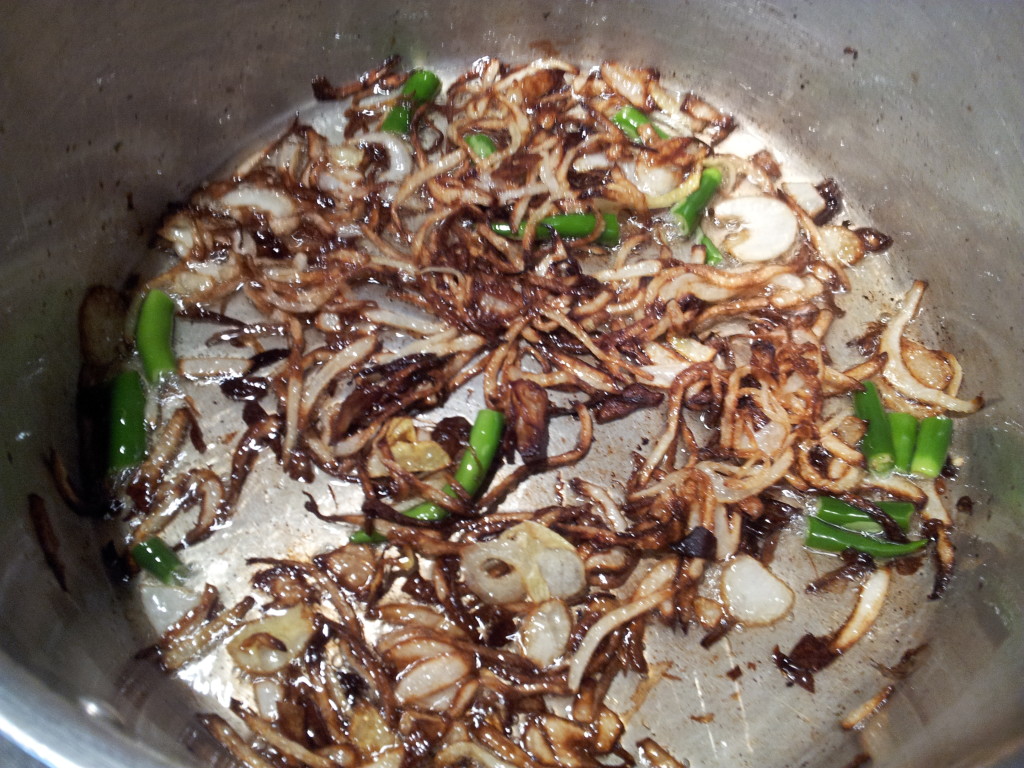 Peas and Aloo Pulao is a traditional recipe that is considered as a necessary item at any South Asian or Middle Eastern household. Peas and Aloo Pulao is a famous rice dish that is simple, mild with less spices when compared to its sister dish Biryani. Biryani requires more preparation time, as it is much complex and requires additional steps. Pulao is known for its simple and easy to prepare nature while biryani is classical and spicier. Individuals that don't regularly eat South Asian cuisines, interchangeable use the name biryani and Pulao that is because they see more similarities than differences between these two famous South Asian dishes. However an individual that is from South Asia or one who is well aware of South Asian cuisine would recognize the difference of methods, steps, ingredients and the overall style.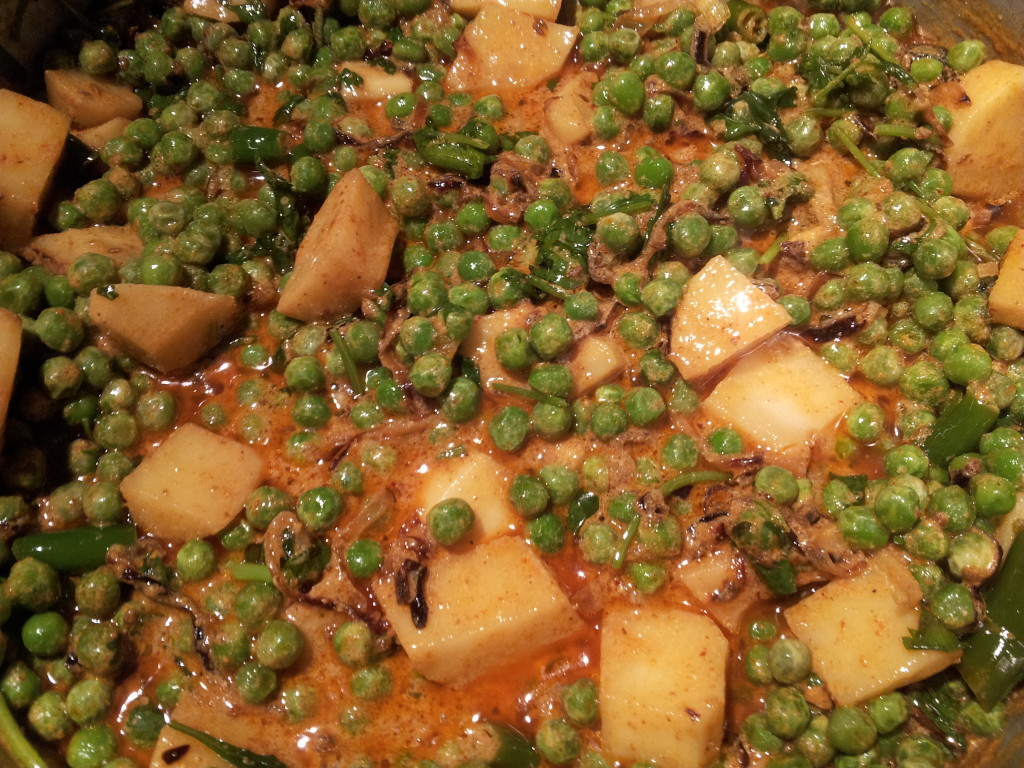 When it comes to healthy, individuals would prefer Peas and Aloo Pulao over traditional Biryani. Well by the Pulao's name you can understand why health conscious and diet nutritionist would pick Peas and Aloo Pulao's. Even if we are talking about any regular Pulao, it would still be considered healthier due to the difference of ingredients. For example pistachios, raisins, almonds etc. are used and preferred. Evidently, dry fruits, potatoes, peas etc. are all necessary and highly important for one's diet, which Pulao when compared to Biryani accepts and recognizes in its ingredients.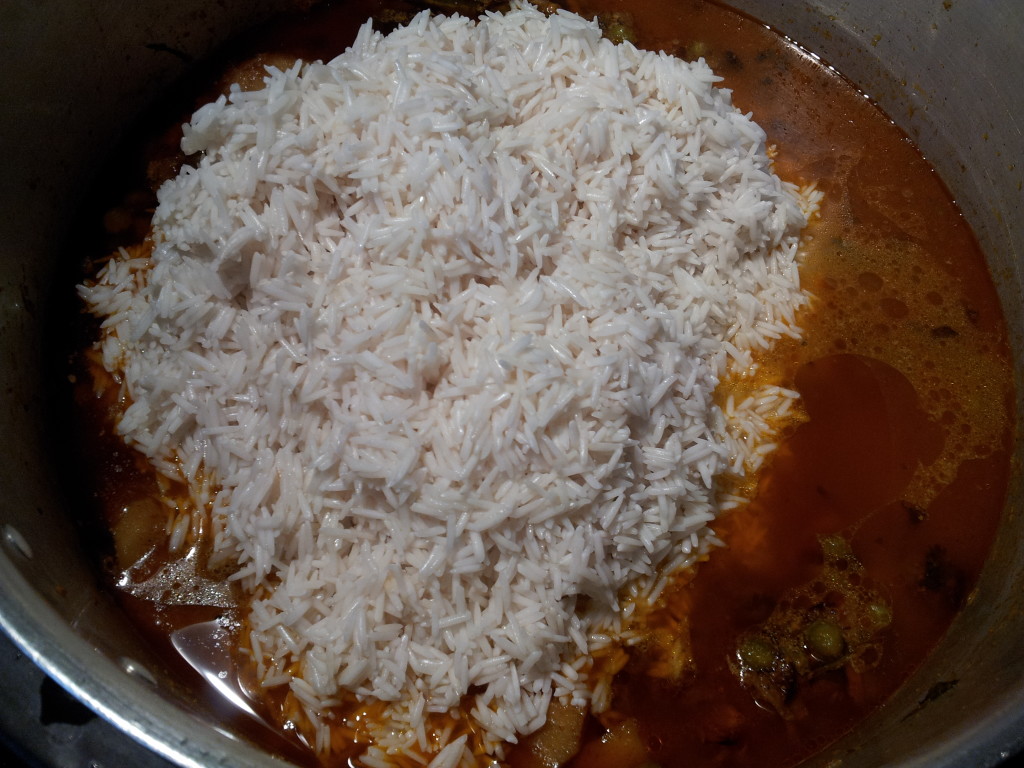 Both potatoes and green peas, which are the main ingredients for Peas and Aloo Pulao are an important and necessary source of energy. In order to intake energy, fiber and vitamin, humans have been eating potatoes for the longest time. Currently from being a source of energy and vitamin, individuals attach potatoes with the word fattening and there is a concern whether potatoes should be avoided during weight loss. The concern of potatoes being a fattening food started due to the rise of fast food restaurants, such as deep fried fries etc. But did you know potatoes are considered highly nutritious to one's diet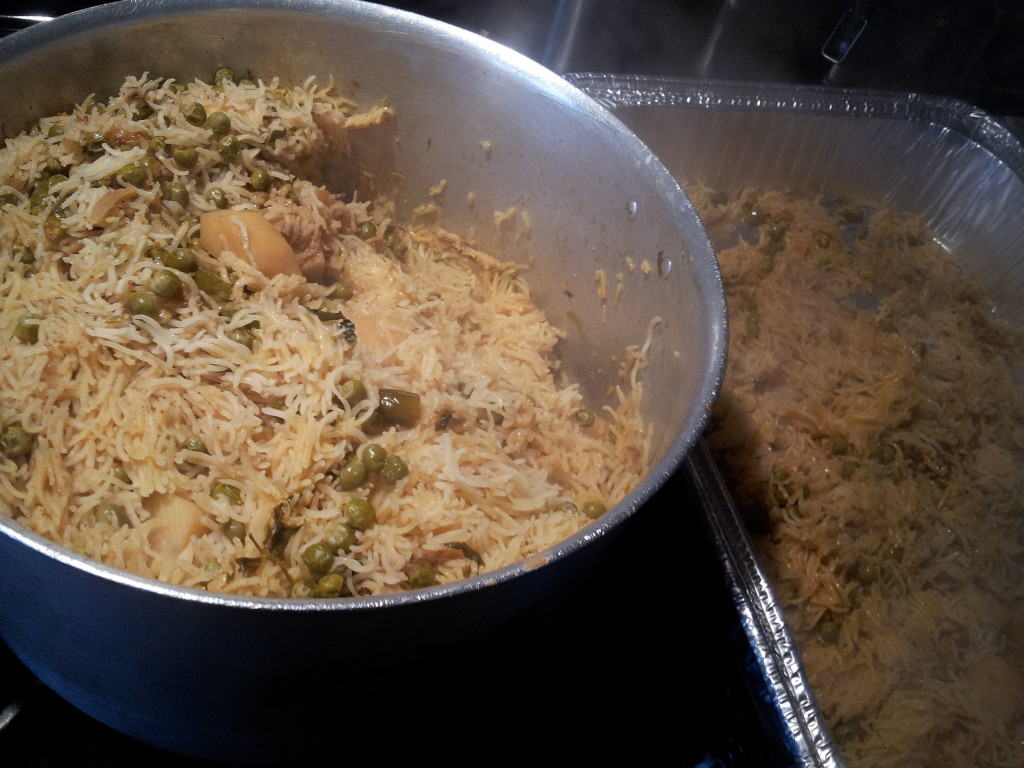 Green peas come in different forms including fresh, frozen, dried or canned. Green peas come in a convenient package, were it can be easily cooked. But once cooked the rounded peas in shape has a smooth texture, sweet taste and vibrant color. When it comes to good nutrition Green peas are high in vitamin, protein and fiber. Also here comes the good part for all you diet conscious individuals, the great part about vibrant green peas is that it is low in calorie and overall a low fat food. So green peas are not only nutritional but also green peas are affordable to any social class.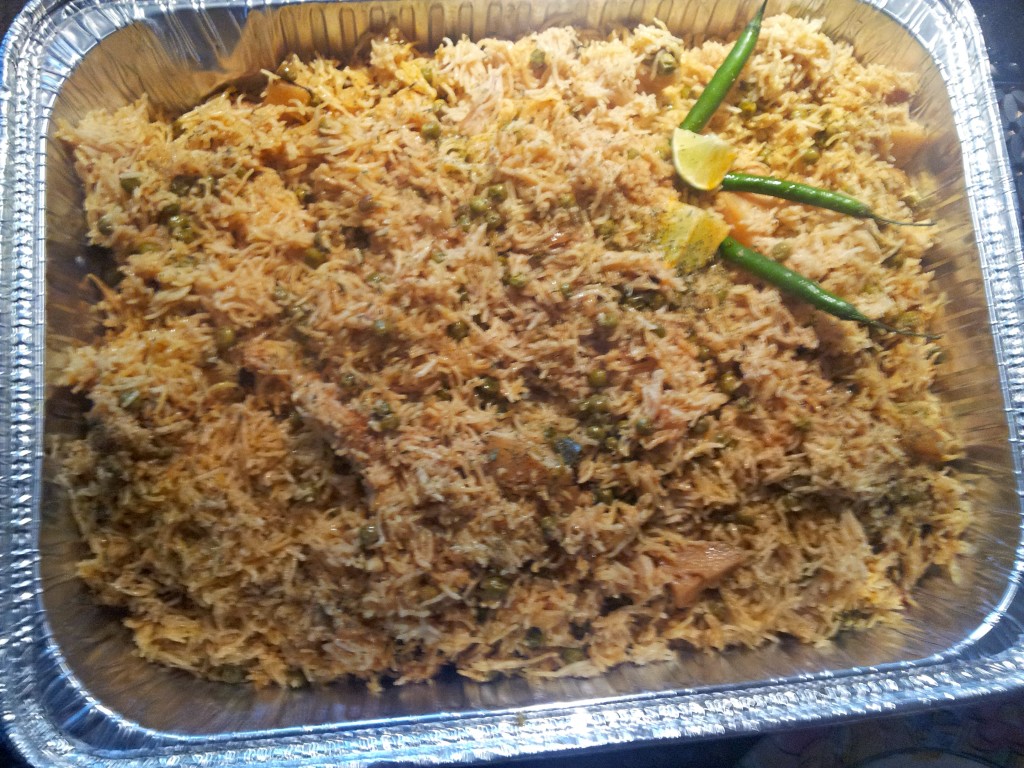 It is true that nothing is more nutritional than a fresh food product, however due to living in urban settings individuals are not able to receive such benefits, especially when it comes to green peas. Green peas in grocery stores are usually frozen or canned. There is a bit of a concern around processed food in today's modern contemporary world. As individuals are all hyped about what is the authentic definition of processed food. When we hear the word processed we usually think about non vegetable or non-fruit items such as a fast food restaurant that offer burgers, fries, soda etc. the list doesn't end here when I think about processed food I usually think about microwave foods and multinational fast food restaurants such as Tim Horton's, Starbucks, Crispy crème donuts.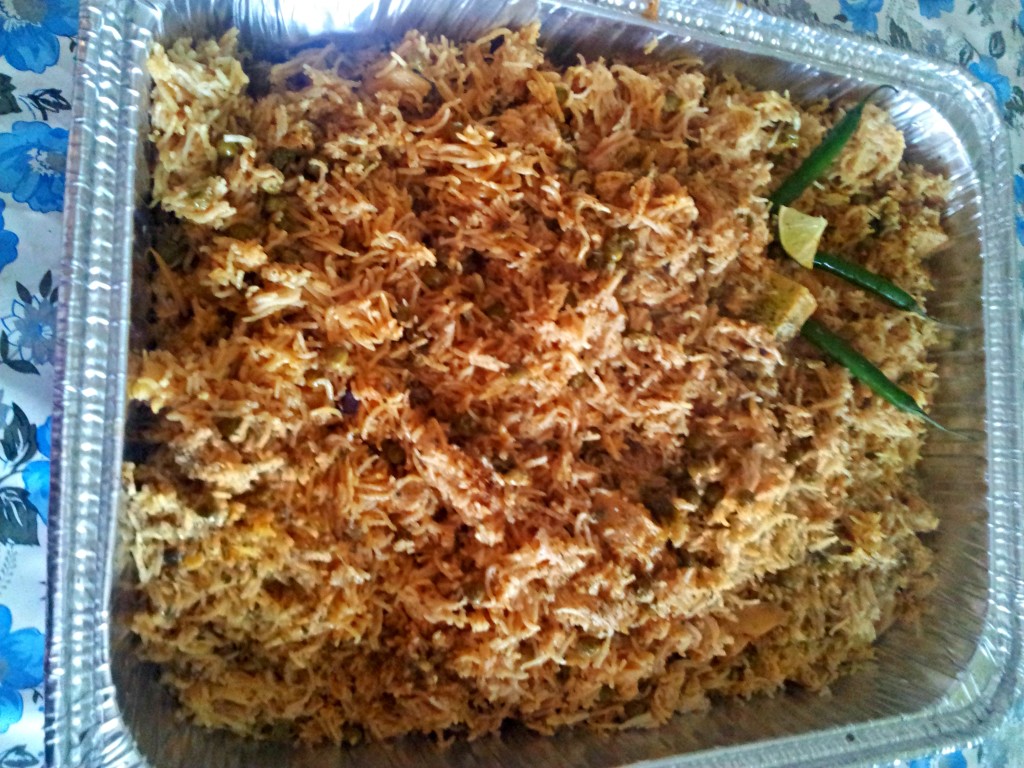 All these popular café based and bakery shops are selling large amounts of trans fat, sugar, sodium, fat etc. Buying highly processed food might be easily available and accessible for urban individuals. Fresh may be out of reach from ones budget. Also taste plays a huge role in whether a person will buy something or not and y'all will agree on this point that processed food taste way better.
However, the definition of processed foods does not end here, surprisingly even fruits and vegetables that are packaged or canned in order to preserve nutrients so they can last longer, are qualified as processed. You might be wondering…than what's the difference between frozen/canned vegetables or fruits and fast food restaurant?
It is true that in today's modern age processed food is widely used for junk and restaurant foods. These processed foods are the reason for the increase level of obesity especially in North America among teenagers and young adults. Also cause fast food restaurants are a cheaper option than healthy food for a middle class family. But this doesn't mean that every processed food is considered unhealthy and bad for one's health. As citizens living in today's 21st century contemporary world we have to keep in mind that there are variety of different processing forms and methods. While some processing methods include preserving nutrients, vitamins and taste come in form of package and canned foods. For example frozen vegetables/fruits that are in a package and vegetables/fruits that are in liquid (water) can's.
So in simple terms, Not ALL Processed Foods are BAD for You. Words of advice: Remember processed foods are convenient, however, it is all about the choices you make, and what you consider to be right or wrong processed food for you.