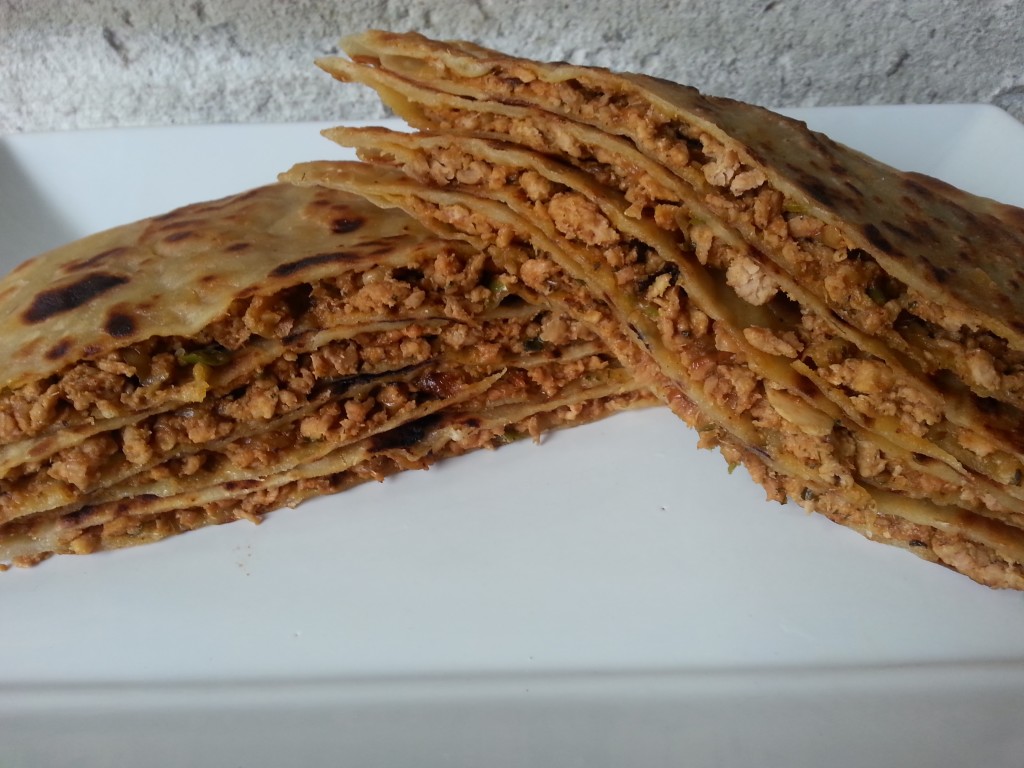 Recipe for Paratha:
Ingredients for Dough
Whole Wheat Flour- 2 cup
Onion chopped- 2 tbsp
Tomatoes chopped- 2 tbsp
Coriander chopped- 2 tbsp
Salt- 1 tbsp
Red chilli powder- 1 tsp
Turmeric powder- 1/2 tsp
Oil- 2 tbsp
Ingredients for Keema (Paratha Stuffing):
Fine Minced Meat- 1 pounds
Raw Papaya Paste- 1 tsp
Ginger Garlic Paste- 1 tbsp
Onions (cubbed)- 1
Turmeric Powder- ½ tbsp
Chilli Powder- 1 tsp
All Spice- 1 tsp
Coriander Powder – 1 tsp
Cumin Seeds (zeera)- 1 tsp
Yogurt- 1 tbsp
Salt- to taste
Green Chilies (chopped)- 1
Oil- 2 tbsps
Instructions:
In a large bowl, Mix: Whole wheat flour, onion chopped, tomatoes chopped coriander chopped, salt, red chilli powder, turmeric powder, oil (all the ingredients listed for paratha dough, see above).
Add in little by little water in order to create a soft dough. Cover with moist cloth and set aside for half hour.
In a large suitable bowl, mix in: Meat, Raw Papaya Paste, Ginger Garlic Paste, Chili Powder, All Spice, Coriander Powder, Yogurt, Green Chilies, Cumin Seeds, Turmeric Powder, Salt and set aside for atleast 60 mins.
In a non stick-able pan, place ¼ cup of oil and fry the sliced onions till brown. After place the stove heat on medium and add in the Meat Marination; cover with pan lid and let it cook (until brown).
Now when the meat is cooked remove it from the stove.
Divide the paratha dough into desired sizes, make round balls, and roll them out into a round shape roti's (chapati's).
Take a portion of Keema and spread in one of the roti (chapati).
Cover this dough with another roti (chapati), and press the edges of both the rolled roti (chapati) firmly.
Apply dry flour and roll out into roti (chapati) form.
Place the roti (chapati) into a hot pan (tawa) with oil, when the roti is golden brown from both the sides place into serving plate.
Garnish with butter/ghee, and Serve with Mango chutney (or achar).
… and ENJOY your weekend with delicious hot keema paratha…