Carrot Cake Recipe: The world's most delicious and wanted cake, EVER! From holiday parties to birthday parties to event parties; Carrot Cake is the BEST! And you know what makes Carrot Cake taste even better? White Cream-Cheese Frosting is the answer. The taste of Cream-Cheese, Fresh Carrots and Nuts make this cake so delicious, creamy and wanted. Chopped Walnut and Pecans are so healthy and make this moist Carrot Cake so crunchy. In every bite you will feel these wonderful tastes and textures that will fulfill your desires, needs and ofcourse want.
Carrot, Carrot, Oh Carrot! Carrot is one of the best vegetables with great nutrition's. Super moist, flavorful, rich and family favorite recipe. Celebrate life, Carrot Cake is the best sweet dessert you should make for your special Holiday party.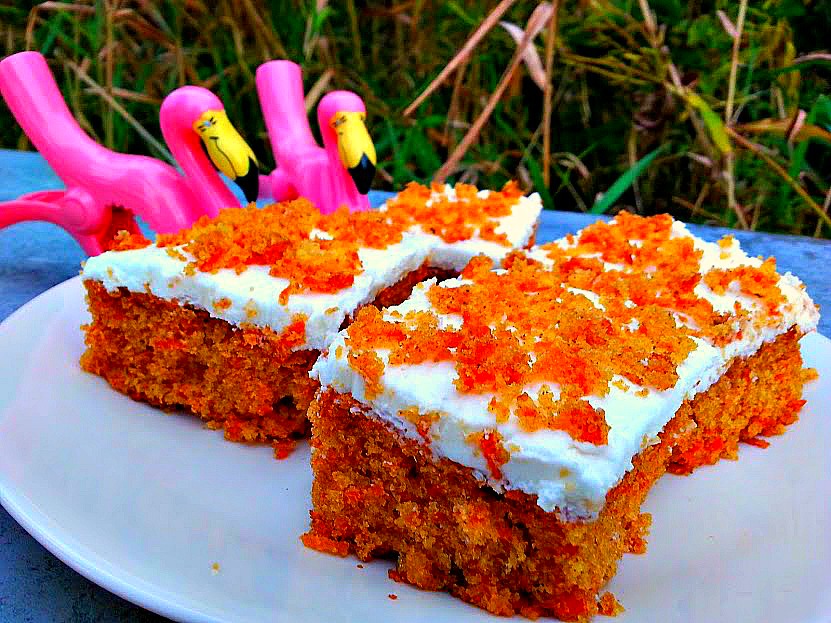 The recipe below is so quick, easy and just the best recipe you are searching for. Seriously! Even the pink flamingos are staring down at them. They came out of the water just to eat them. I used brown sugar instead of just using plain white sugar. Adding brown sugar brings out the sweet and yummy taste in Carrot Cake. You can enjoy this lovely Carrot Sweet anywhere, at anytime. Be it Christmas Day special celebration cake or enjoying the warm summer weather. Carrot Cake is yummy, and loved at any occasion. Freshly grated carrots make this cake so fresh and moist.
How to Decorate your Carrot Cake the Simple, and Easy Way? After adding your white frosting cream-cheese on top then sprinkle some pieces of cake. Its so simple and looks so pretty and beautiful. Try it for your-self. It saves so much time, its easy, quick but looks so fabulous and classy. This Carrot Cake is the cake you should make for your special day.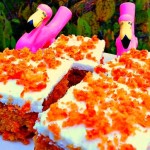 Carrot Cake with Cream-Cheese
2015-12-10 16:14:32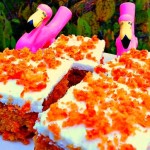 Serves 4
Delicious, Sweet, and filled with Nuts! This cake is so moist and soft, filled with love and flavor.
Ingredients for Carrot Cake
All Purpose Flour- 2 and ½ cup
Carrots (Grated)- 3 cups
Pecans (Chopped)- ½ cup
Walnut (Chopped)- ½ cup
Brown Sugar- 1 and ½ cup
Sugar (granulated) - 1 cup
Salt- 1 tsp
Baking Powder- 2 tsp
Baking Soda- 1 tsp
Cinnamon- ½ tsp
Nutmeg- ½ tsp
Eggs- 4
Vegetable Oil- 1 cup
Vanilla- 1 tsp
Ingredients Cream-Cheese Icing
Cream-Cheese- 8 oz
Butter (unsalted, softened)- ¼ cup
Powdered Sugar 2 cups
Vanilla Extract- 1 tsp
Instructions
Preheat Oven 350 F
In a suitable Large bowl, Blend in all the ingredients for the Carrot Cake.
Using a 13 × 9 inch pan, spray in and to the corners: cooking spray. Add in the Cake batter and bake for 40 mins, or until the cake is fully baked; and set a side till it cools.
For cake Cream-cheese Frosting: using an electric blender, Blend in Cream-Cheese, and Butter till creamy. Add in powdered sugar, Vanilla extract and blend till all ingredients have mixed well and a creamy texture arises.
When your Carrot Cake has cooled, dish out and top it with Cream-cheese...ENJOY
OMGies... http://omgies.com/
This Carrot Cake is not just good looking and beautiful, it indeed is delicious and breath-taking. Forget love i'd rather fall in love with these Moist Carrot Cake. Come and fall in Love as well, You totally Deserve these Delicious Carrot Cake. It is so fun and supper quick. Just few ingredients and you are a step away from the worlds greatest pleasure. I can like totally stare at this picture! Awhh, aren't the flowers at the back making these Carrot Cake look so attempting.
Is this Love? Its such a beautiful evening, and you know what makes this evening even more beautiful! These Stunning Carrot Cakes; they are so Lovely, Moist, and Sweet. The PERFECT Dessert for this Perfect view. Make your View and life Beautiful by baking this delicious Carrot Cake.